CDN Cotendo Raises $12M, Has 120 Customers For DSA and App Delivery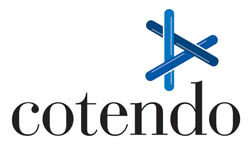 Hot on the heels of funding by 3Crowd Technologies and EdgeCast Networks, content delivery network Cotendo announced it has raised $12M in a Series C round led by Tenaya Capital and joined by its current investors Sequoia Capital and Benchmark Capital.
While California based Cotendo is not as widely known as some of the other CDNs in the market, that's primarily due to the fact that they are not in the video delivery business. Many of the current CDNs you hear about today have been focused on delivering video content from day one. Cotendo on the other hand launched to the market a year ago with a focus on offering dynamic site acceleration (DSA) and application acceleration, two services that have a lot more complexity than video distribution and much higher margins.
While these services are not as widely known as video delivery and not talked about by the media, they are the exact services that nearly all of the other CDNs are now trying to roll-out to help diversify their revenue. Typically these offerings are referred to as "value add services" and are not subject to the pricing pressure we've seen from the video contracts in the market. With pricing on video delivery dropping and vanilla flavored CDN services becoming commotizied, nearly every other CDN outside of Akamai, who already has these services, is trying to get into the business.
In a call with the company yesterday they revealed that they now have 120 customers which is pretty good considering they didn't have any just over year ago. The company plans to use the money raised to market their services and expand into some international markets and recently opened new offices in France and Germany.
As I mentioned in a post last month, dynamic site acceleration (DSA) and application acceleration are going to become the next big thing in the content delivery industry. Video services have had their time in the spotlight for many years but the real revenue growth potential for the CDNs and their best shot at becoming profitable is going to come from all of the other CDN services outside of video delivery. Delivering video for a customer in the media vertical or the broadcast vertical is very similar and the offering pretty much looks the same. But when it comes to offering DSA and app acceleration services to finance, retail, enterprise and media markets, the solution can change quite a bit depending on the vertical.
Offering dynamic site acceleration (DSA), application acceleration and small object delivery is very different than delivering video and large objects and I'll be writing more about those services next month. In the mean time, if you want to learn more about these services I will be moderating a panel at the Content Delivery Summit on Monday entitled, "Moving Beyond Video: Application Delivery and Dynamic Site Acceleration". Speakers include executives from Akamai, CDNetworks and Cotendo.