Video Traffic Grew 35% This Year, Same Rate Of Growth As 08′, Flat Year-Over-Year
The question I got asked most frequently at last month's Streaming Media West show was when I thought the rate of growth for video traffic would once again begin to accelerate. Based on a recent StreamingMedia.com survey we conducted in September and October, of which 812 content owners responded, 53.3% of the respondents said their traffic grew on average of only 35%-40% this year.
When compared to the same survey last year, 53.9% of over 1,000 content owners said their traffic grew a total of 35% in 2008. This lack of growth probably comes as no surprise to anyone who tracks the CDN space as revenue amongst the CDN vendors has been flat all year. When pricing is down nearly 40% year-over-year and traffic is only growing at 35-40%, that makes it really hard for CDNs to show revenue growth from their M&E video business.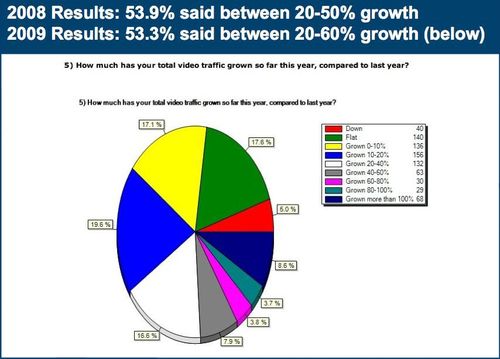 If you're wondering just how big these content owners are who took our survey, 13.4% of them spend at least $10k a month, 4.8% of them spend at least $25k a month and 3.9% spend at least $50k a month, just on video delivery. I'll be giving out more details and numbers from the CDN pricing survey in the coming weeks.