Free Product Giveaway: Flash Media Interactive Server ($4,500 retail)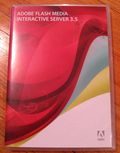 The drawing is now closed. Thanks to Adobe, I have one copy of Flash Media Interactive Server 3.5 to give away to one lucky reader of my blog. This is an incredible giveaway as the software retails for $4,500 from Adobe's website. Winner: Sean D. from New York, NY.
Because I don't want someone winning this and simply re-selling it on eBay, this drawing is only open to companies. To enter the drawing, you must leave one comment on this post with your real first and last name, a valid email address AND the URL of your company. I'll pick a winner at random at the end of the month and mail it out to the user at no charge. Keep an eye on the blog as later in the month, I'll have another Adobe Flash product to giveaway.
A HUGE thanks to Adobe for allowing me to give this away on my blog.