See The GM Of Xbox LIVE Demo 1080p Streaming, Win A Free Xbox 360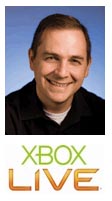 Marc Whitten, GM of Xbox LIVE will be our keynote presenter on Wednesday Nov. 18th at the Streaming Media West show. During Marc's keynote, he'll be showing off some of the new functions coming to the Xbox 360 including Zune Video and 1080p streaming. Updated: I can now disclose that the Xbox 360 dashboard update will be rolled out on Tues, the day before Marc's keynote. (official announcement) Come see Facebook, Twitter, Last.fm and instant on HD video from Zune demonstrated during the show.
And thanks to Xbox, we're also excited to announce that we'll be giving away a bunch of Xbox 360 pro consoles, LIVE membership cards, messenger kits and Microsoft Points after Marc's presentation. If you want a chance at winning any of the gear, simply go online, register for a FREE exhibits pass using the promo code of DRF1 – and you're in!