Video CDN Pricing Drops Slightly In Q1, Other Contract Trends Noticed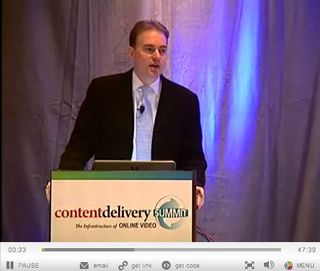 Last month I completed my review of all the contracts and RFPs I saw in
the market for the first quarter of 2009 and presented these findings at the Content Delivery Summit in NYC two weeks ago. (click on the video window for the presentation or go here here. you can download my slides here) Overall, pricing for delivery services from the major CDNs changed very
little from Q4 2008 to Q1 2009, although some price erosion was seen at
some of the mid-tier and higher level customers pushing a lot of
traffic. (note: you can always find my latest pricing post at www.cdnpricing.com – Previous Quarters: Q4 08, Q3 08, Q2 08, Q1 08.)
While I continue to see a lot of analysts reports still talking about the "pricing pressure" in the CDN market, I still don't see anyone giving examples of what the "pressure" is. I think it is important to keep that in perspective as many in the market make the pricing declines sound bigger than they actually are. While Limelight did mention some pricing pressure with some of their largest customers on their Q1 earnings call, after the call they told me the pricing reduction for these customers was typically fractions of a penny, on per GB delivered contracts. While a company like Limelight has more exposure to pricing reductions since roughly 20 of their customers make up 50% of their revenue, fractions of a penny is not a huge drop in the market. And for customers who are already pushing a ton of volume and continue to grow their traffic, they expect to get some discount based on growth.
The lowest price I saw in Q1 was two and a half cents per GB delivered for over 500TB of traffic a month. When I questioned many of the major CDNs about this price, nearly all of them told me they don't price delivery that low, but the contracts say otherwise. That price is not the norm as 500TB a month in delivery is a very large customer, but there are now more than a handful of those customers on the market. Bitrates are larger, video is higher quality, some is in HD and the major content owners are pushing some ridiculous volumes of traffic. That said, my guess is that 100 top content owners probably push over 60% of all the video traffic amongst all the major CDNs. So the CDNs are still getting the vast majority of their video related revenue from probably 20% of the customers in the market. This will shift over time and is already beginning to, but the bottom line is that the major
content owners are still the ones pushing the vast majority of traffic
amongst the CDNs.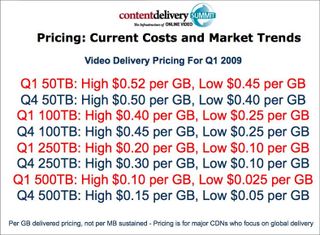 While it looks like pricing dropped by 50% at the 500TB level, keep in mind that the number of those deals that size is very small. I saw only two deals in the 500TB range for all of Q1. The vast majority of deal sizes are in the 250TB range, which remained pretty stable.
For many content owners, traffic is not growing as fast in 2009 as they saw in the first half of 2008, but it's still growing, just at a slower compound annual growth rate. That's not to say all content owners are seeing slower growth and many like Netflix, MLB, Hulu and others are seeing a lot more growth already in the new year. However, since the CDN vendors won't tell us how much video traffic they push quarter to quarter and what kind of traffic patterns they are seeing, it's too hard to make a general statement on what the overall market is doing. No doubt the traffic growth is down overall, but at what percent compared to previous years can only be compared to on a customer by customer basis until later in the year.
While many are still asking me about Akamai potentially cutting their CDN pricing for video in Q1 in the hopes of getting their M&E business to start growing again, I don't see that happening. I do however see Akamai doing more non-commit contracts with content owners which is great for the customer, but bad for the CDNs. Even content owners who aren't that big, for example doing 150TB a month of delivery, have contracts with Akamai where they don't commit to any traffic on a monthly, quarterly or yearly basis. While this is something Akamai and many of the CDNs have done in the past, I see Akamai doing more of this in the last two quarters. I think this is a sign that Akamai is trying to be more flexible, which is good, but their pricing on most deals is still 35%+ higher than Limelight or Level 3. I still also get at least one content owner each week asking me why Akamai is charging more for delivering videos via streaming as opposed to progressive download. I don't have an answer why and while Akamai is under no obligation to tell me, what I don't understand is why they can't give potential customers an answer. I still continue to see Akamai lose deals because their quote to the customer gives two rates, based on the delivery protocol being used and there is no explanation to the customer as to the difference.
In Q1, I saw more contracts from outside the U.S. from companies based in London, India and Singapore. Clearly the pricing environment is different from those regions and it is clear that many times, content owners do see a difference in performance in places like India and Singapore between Akamai, Level 3, Limelight, ChinaCache and Tata Communications. Akamai's strength still lies in their performance in these regions of the world and I do see some content owners paying more for that service. There is nothing wrong with Akamai charging more in the market, as long as they can show a measurable difference, which they seem to be doing in India and China. It's really the U.S. where Akamai is charging more for video delivery, but not showing the difference in performance and are giving up a share of the market to Limelight and Level 3.
At the Content Delivery Summit I got a lot of questions about content owners using dual vendors and if that is a shift taking place with customers. While some content owners have used dual CDN vendors for years, many others don't. It really does come down to the preference of the customer and what they need. Some want two or three CDNs, some tell me they will never use more than one. So I don't see a trend taking place either way, but I do see more of the largest content owners like Apple, Netflix, MLB, NFL, Comcast and others using two major CDNs today.
As I have written before, I don't expect to see a big decline in pricing this year. The CDNs all know that they can't give this stuff away, they have to make some margin and if pricing declined 35% for the average customer last year, I think we'll see only around a 15% decline this year, on average. The content delivery business is all about the economics of scale and CDNs have to multiply the volume of traffic on their network many times over before the next round of major pricing discounts can take place. I think it will be the first or second quarter of 2010 before we once again see a big drop in pricing across the board.
Related Posts:
– Video CDN Pricing Stable In Q4: Discounts Given For Lower Bandwidth Tiers
– Telcos Outline Their Thoughts On How They Can Win In the CDN Market
– Amazon Building Dedicated Sales Force For CloudFront Delivery Services
– Level 3's New CDN Strategy: Integration Will Make Or Break The Service