CDNetworks Valued Panther Around $5M, Not A Sign Of Major CDN Consolidation
While many want to proclaim that yesterday's announcement of CDNetworks acquiring Panther Express is the start of major consolidation in the CDN sector, it's not. More than a year ago people were saying the exact same thing and in that time, we've only seen this one deal take place. Not to mention, the CDNetworks acquisition was for a company that was not profitable, had many non-commit contracts and from what I keep hearing, CDNetworks got a very good deal, valuing Panther Express at a little over $5M. But even if Panther was valued for more money, it still would not signal the start of any major consolidation.
The problem with thinking that major consolidation will take place is that the vast majority of CDNs don't own any real technology, don't have applications, have no patents, no intellectual property, have a small number of customers and very little revenue. Lets say that you are a telco that wants to enter the CDN market. What do you get by acquiring a current CDN that has very little in the way of technology or revenue? While we've seen many telcos and carriers enter the CDN market with offerings, none of them have made any acquisitions yet and most are simply reselling another third party CDN.
Some CDN vendors do have some value add technologies, but most don't yet have a lot of revenue. There is some value placed on hybrid networks and those CDNs who have more application layers on top of their CDN that would be considered more valuable. Certainly Akamai and Limelight are always possible acquisition targets simply based on their revenue, but they are the exceptions. Looking past them, the rest of the pure-play CDN vendors all did less than $20M in revenue
last year and for the vast majority of them, they won't even do half that much this year.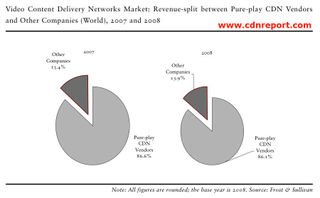 That said, in a few years, the revenue share from pure-play CDNs, (defined as those who get the vast majority of their revenue from CDN services versus other companies who get revenue from things like colocation and transit) is going to drastically change. In 2008 the market size for video delivery services was $398M (www.cdnmarket.com). Of that, pure-play CDN vendors accounted for 86.1% of the total revenue. At some point, a larger percentage of CDN revenue is going to come from the telcos, carriers and those who provide other services outside of just content delivery. But until that time comes, the pure-play CDNs still control the vast portion of the market.
One of the main reasons we have not yet seen any telco or carrier do an acquisition is simply due to the fact that the video delivery market is still very small. This isn't a knock on the CDN industry, or the vendors, it's just reality. As much as we all want the market to be bigger, the market for video CDN services is still very small revenue wise when compared to the other services carriers and telcos offer. As IP based video delivery continues to grow, these companies will start to take more of an interest in the pure-play CDNs. But that's why for now, aside from Level 3, who bought some CDN assets and technology, all of the other carriers and telcos have decided to license or resell a CDN instead of buying one.
They want to get their feet wet with CDN services, get a handle on customer requirements, see how current CDNs handle things like provisioning and scaling their networks and then decide if they want to be in the business. This is exactly what folks like Global Crossing told me this week when they discussed how they want to slowly enter the market, without having to deal with capex spending. Once they evaluate the market, if they decide they want to be a major player, then they will look at doing an acquisition 12-18 months down the line. This thinking is nearly identical amongst all of the telcos and carriers I have spoken to who have chosen to resell another CDN, for now.
Even if Panther Express was valued for more money, this still would not signal the start of any kind of major consolidation in the market. While I do know of two other CDNs who have offers on the table now and could potentially be acquired shortly, like Panther, they are very small and it won't impact the market dramatically.
For more details on the CDN market, including lots of revenue and market share and sizing numbers, see my Frost & Sullivan CDN report, which you can still get at a discounted price.