Video To Go: The Future Of Mobile Video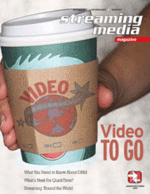 EVDO, DVB-H and 3G. The mobile market is still an alphabet soup of competing formats, protocols, and networks, and with the recent demise of Amp€™'d and ESPN'€™s MVNO initiative, no one can blame you for thinking that mobile video might never take off.
But that's not stopping carriers and content publishers from trying and the market is starting to pick up for video on the go. The October/November issue of Streaming Media magazine entitled "Video To Go" will help readers make sense of the confusion and reveal various experts take on what the future of mobile video holds.
For those who don't already have a subscription, what are you waiting for?!?! It's FREE! So join the nearly 20,000 other readers who get it bi-monthly and sign up today.