P2P Industry Discussion and Event, June 13th In Los Angeles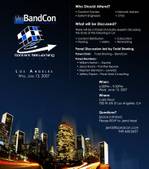 If you are going to be in the LA area on June 13th, the LA Content Networking Forum will be a great opportunity to meet folks and learn about the
State-of-the-Internet in the LA area (i.e. Content Delivery,
Networking, Connectivity, Metro, Co-location and Peering).
There will be food, drinks, music and a Q&A session following a panel discussion from executives at Level 3, Equinix, Peak Web Consulting and Panther Express.
For all the details, click on the flyer and make sure to register in advance for the event. Space is limited so if you haven't already, be sure to RSVP.