Data Shows 82% of Traffic to The Top 250 Piracy Sites is Routed Through Cloudflare
In September, MUSO, a London based company that collects data from billions of piracy infringements every day, scanned the highest trafficked 250 global piracy sites and found that 82% of the piracy traffic is being proxied through Cloudflare. This is an astonishing number and when compared to other network providers, no other provider had over a 2% share.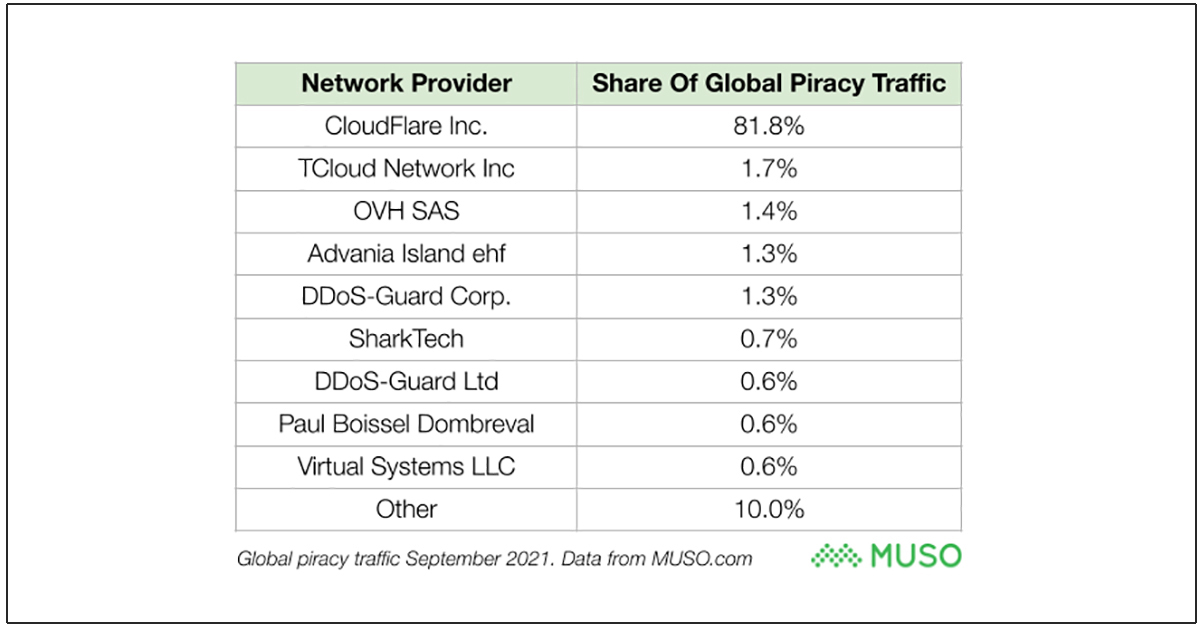 For those that track the network provider space these findings probably aren't too surprising since Cloudflare has a history of allowing piracy sites, along with terrorist organizations, to use their services. The disappointing news is that MUSO routinely informs Cloudflare about copyright infringing content on these sites, but doesn't see them shutting off the websites. This is a clear violation of the first clause in Cloudflare's AUP which states, "By agreeing to these Terms, you represent and warrant to us… (iii) that your use of the Websites and Online Services is in compliance with any and all applicable laws and regulations."
MUSO says other network providers like AWS and Microsoft act on notifications and takedown requests and remove sites from their service resulting in MUSO only seeing a small number of piracy sites on other these providers. In fact, the numbers are so small that AWS and Microsoft fall under the "other" bucket on the list, below 0.6% of all piracy traffic. If you want to see a snapshot of the top 25 piracy sites from MUSO, you can see them here.
For clarity on the methodology, MUSO took the top 250 highest trafficked piracy sites in September 2021, which represent 40% of global piracy traffic. They look up the network provider for each site, group them by traffic and then look at the volume. These figures don't measure the piracy streams and downloads of the content within these sites, they reflect the traffic to the sites themselves. MUSO's digital content database covers 196 countries, millions of measured devices and billions of piracy pages continuously tracked and is used by clients including Sony, AMC, Bloomberg and many others in the broadcast, publishing, film and software industries.
Based on the data, there's a very clear pattern here. Cloudflare has a huge share of traffic from the top 250 global piracy sites running through its network and benefits financially as a result. There is no way to know how much revenue they make from these piracy sites, but with such a large share of traffic, it's substantial.