Call For Speakers Opens for NAB Streaming Summit in NYC, Oct 16-17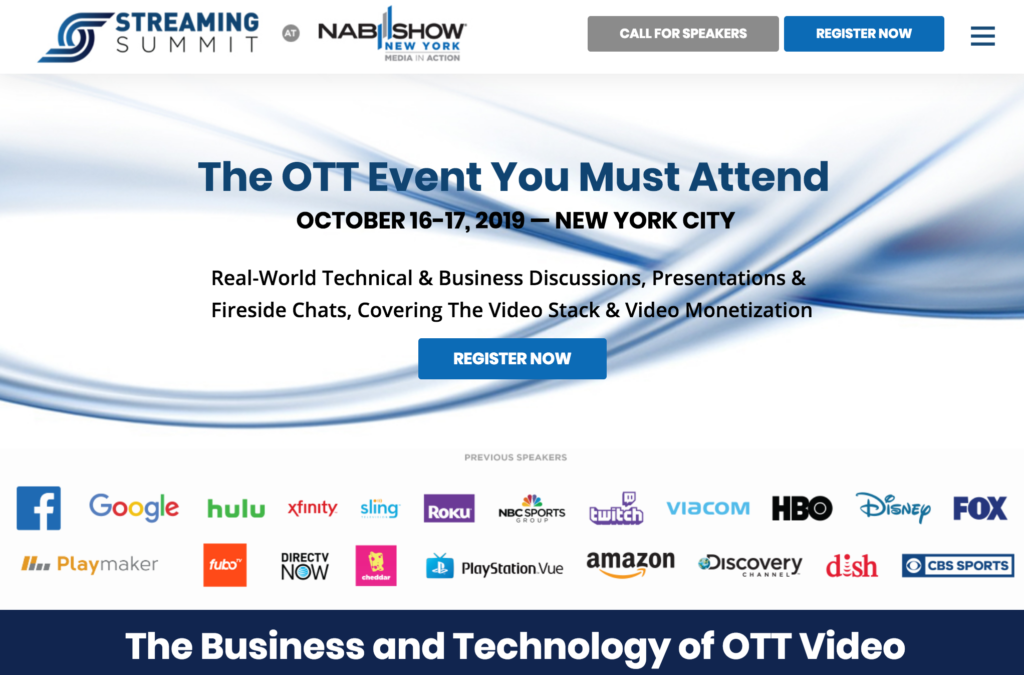 I am pleased to announce that I will once again chair the Streaming Summit, a two-day event that focuses on the business and technology of OTT video, in conjunction with the NAB Show New York conference, taking place October 16-17 in NYC. The call for speakers is now open along with discounted registration and sponsorship opportunities.
The Streaming Summit will feature 100 speakers, across two-tracks and will be a combination of fireside chats, best practices technical presentations, case studies and round-table sessions. Unlike other events, the Streaming Summit's content will be extremely focused on the real-world challenges and opportunities in today's OTT market. No sales pitches and no sessions with seven speakers crammed onto one panel. We'll also have some great networking opportunities around the event and expect more than 500 attendees, out of the 10,000+ attendees to the NAB Show in NY.
Attend the event and learn how to capitalize on direct-to-consumer (DTC) offerings and hear how some of the largest companies in the world are monetizing their video library and building a brand relationship with their customers. In addition to the Streaming Summit's focus on business models, on the tech side, consumers expect the best video quality on their devices and TVs anywhere, anytime. Hear how video providers are continuously improving their video workflows to give their audience the best possible viewing experience across packaging content, transcoding, media management, playback, and analytics.
Those interested in moderating should reach out to me with their ideas now! and anyone looking to get involved, speak, sponsor, or attend can reach out to me directly at 917-523-4562 or mail@danrayburn.com. I will begin placing speakers immediately and we'll also have some great industry partners involved in the event this year, helping to produce content around topics pertaining to AVOD, SOVD, advertising metrics and bringing in brands and agencies to share their expertise.
And of course, we'll still have many of the best OTT platform, broadcast, publishing and live linear companies represented as speakers, with last year's lineup including: Hulu, Amazon Prime Video, NBC Sports, Disney, CBS Interactive, Discovery, AT&T, Google, Facebook, LinkedIn, Roku, NBA, FOX Sports, Sling TV, Comcast, Fubo TV, Viacom, Washington Post and many others.