Bleacher Report's Live PPV Stream of Tiger vs. Phil a Massive Failure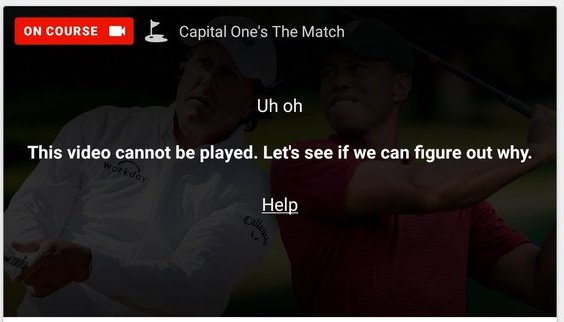 What is being billed as the first ever live PPV event for golf is going down in flames as Bleacher Report's live stream of the Tiger Woods vs. Phil Mickelson match is experiencing massive failure. The stream, which costs $19.99 to watch, is having a long list of authentication issues, app problems and missing audio amongst other complaints. From what I can tell so far, the issues all appear to be on the front-end and not with the CDNs delivering the video as you can't even get to the video to watch it. Whichever vendors(s) are responsible for the failures are costing Bleacher Report a lot of money and will need to issue massive refunds.
I've tried to get the stream on multiple apps and desktop and have gotten errors of "oops, something went wrong. Please try again later," along with blank screens, no options to actually purchase the event and a message saying "check back closer to the event time", even though the even started more than 30 minutes ago. Also a message of "this video cannot be played" is a frequent message many users are reporting. On the desktop, I was asked to sign in with my Google account, but when I tried, got an error 403 message saying "This app has exceeded recommended rates of users signing in with Google."
Looking at Bleacher Report's Twitter feed, users are fuming with the most common comment being that even after purchasing the event, a message of "this event is not purchasable yet", appears. Other errors users are reporting include:
– Says too many devices are streaming
– Error retrieving assets for commerce
– I purchased and went back to app and it says not purchasable yet
– Stream isn't working on computer or Roku TV app
– We paid for the match on the app but the app isn't working
– Stream is not working at all on smart phone or Roku!
– There is no buy button
While Bleacher Report is using many third-party vendors for this failed webcast, that's no excuse for the company to not even acknowledge the problems they are having. Two hours into the problems they haven't posted a single Tweet updating users and many are leaving comments that the support number provided is busy and they can't get through. I also haven't seen Bleacher Report reply to a single user and their strategy of just ignoring the problem is about as bad as you can get. Making matters worse, all week Bleacher Report has been promoting the event on social media saying "Because watching live sports should be easy". Ouch. But this is what happens when you don't plan properly, don't use vendors that know how to execute large scale webcasts properly and have a failover strategy. This PPV webcast now equals the MacGregor/Mayweather PPV from a disaster stand-point.
Updated 4:49pm ET: The stream is now working, for free, via the website at https://live.bleacherreport.com/tiger-vs-phil/