Learn How Online Multiplayer Gaming is a Lead Edge Application, at the #edgenext Summit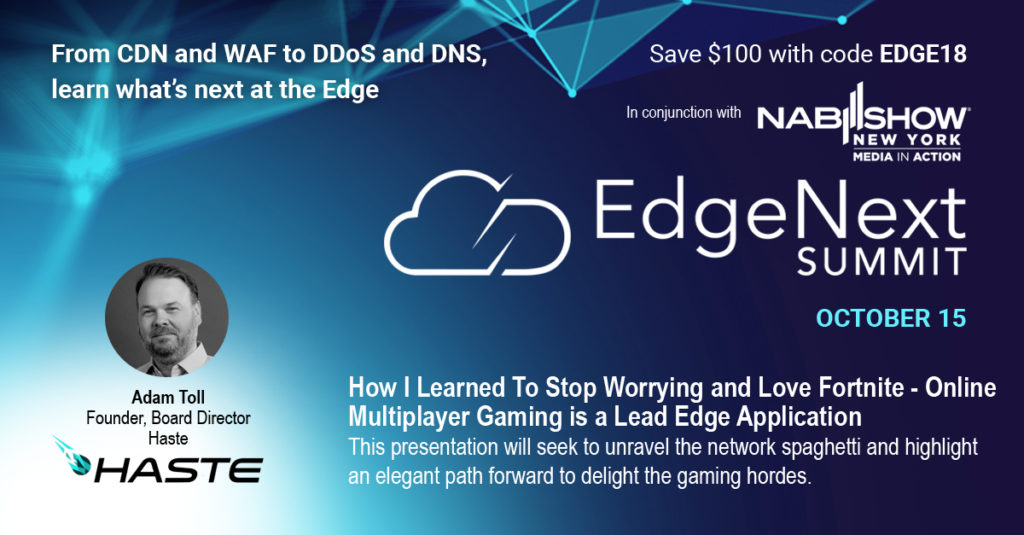 Online multiplayer gaming is no longer the preserve of a small number of avid fanatics. It's gone mainstream and is attracting a populist wave as manifested by the "Fortnite effect". This phenomenon creates presumed expectations of performance, especially low latency, that the gaming ecosystem has to anticipate and address without missing a beat.
At the EdgeNext Summit, taking place Monday October 15th in NYC, Adam Toll, Founder, and Board Director at Haste, will seek to unravel the network spaghetti and highlight an elegant path forward to delight the gaming hordes. Hear how Haste technology and Internet Service Providers can work together to deliver a superior gaming experience to players.(session details)
Held in association with NAB Show New York, the one-day EdgeNext Summit will focus on content distribution at the edge and all that is taking place with CDN, WAF, DDoS, DNS & more. With a focused lineup of companies showcasing all the new decentralized ways services are being brought closer to the eyeballs, you'll hear how the Edge is improving the end-user experience. From the last mile to the last inches. What's next at the Edge?
Use my personal discount code of edge18 and get a pass for only $495. #edgenext