Learn How New Edge Cloud Ecosystems Could Foster Synergies Amongst Carriers and Content Providers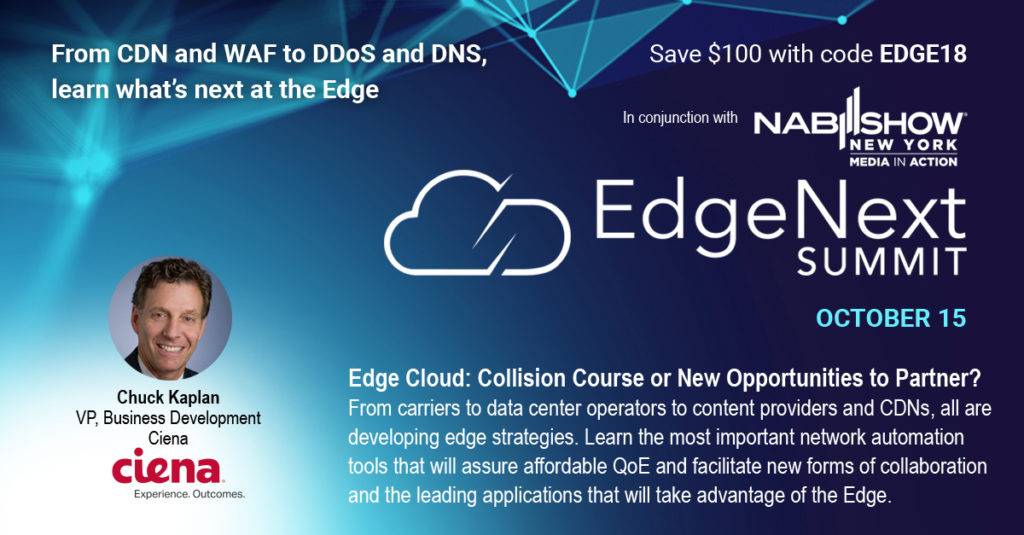 All of the major players in the content and enterprise ecosystems, from carriers to data center operators to content providers to CDNs, are developing edge strategies. At first glance these strategies might appear to overlap, but there is a case to be made that the new cloud ecosystem could foster synergies that favor literally all players.
At the EdgeNext Summit, taking place Monday October 15th in NYC, Chuck Kaplan, VP of Business Development at Ciena, will look at the roles that give each player a position of advantage, and will highlight the most important network automation tools that will assure affordable QoE and facilitate new forms of collaboration. He will also present some logic for the leading applications requiring a deep edge and associated market timing. (session details)
Held in association with NAB Show New York, the one-day EdgeNext Summit will focus on content distribution at the edge and all that is taking place with CDN, WAF, DDoS, DNS & more. With a focused lineup of companies showcasing all the new decentralized ways services are being brought closer to the eyeballs, you'll hear how the Edge is improving the end-user experience. From the last mile to the last inches. What's next at the Edge?
Use my personal discount code of edge18 and get a pass for only $495. #edgenext