See The Impact Of Packet Loss On Performance Over A Wireless Connection, at EdgeNext Summit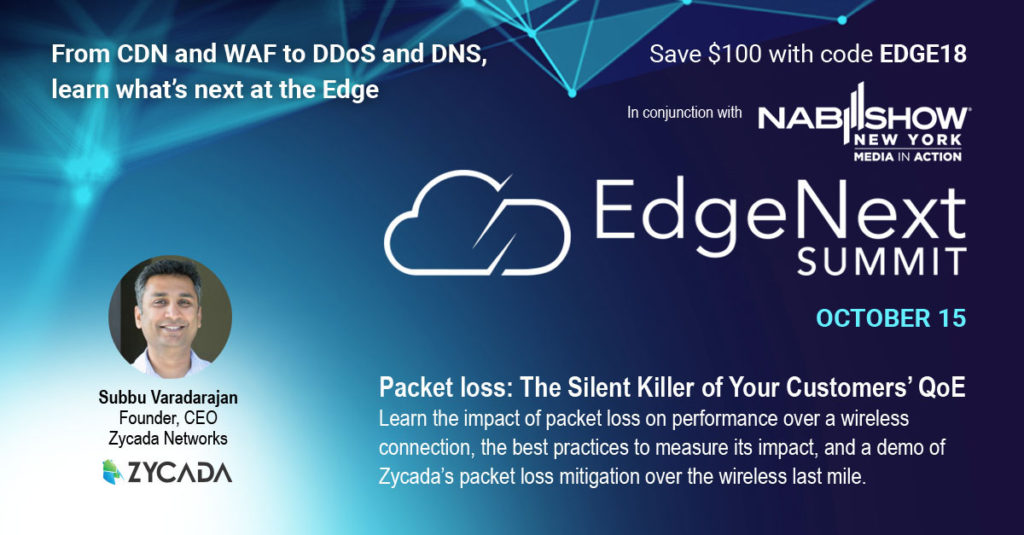 The transient nature and pervasiveness of packet loss, jitter and other performance problems occurring over a wireless "last mile" are often poorly understood, and hardly ever quantified. At the EdgeNext Summit, taking place Monday October 15th in NYC, Subbu Varadarajan, Founder, and CEO of Zycada Networks, will illustrate the impact of packet loss on performance over a wireless connection. Learn the best practices to measure its impact, and see a live demo of Zycada's packet loss mitigation over the wireless last mile.
Held in association with NAB Show New York, the one-day EdgeNext Summit will focus on content distribution at the edge and all that is taking place with CDN, WAF, DDoS, DNS & more. With a focused lineup of companies showcasing all the new decentralized ways services are being brought closer to the eyeballs, you'll hear how the Edge is improving the end-user experience. From the last mile to the last inches. What's next at the Edge?
Use my personal discount code of edge18 and get a pass for only $495. #edgenext