Learn About Powering Dynamic, Interactive Applications At The EdgeNext Summit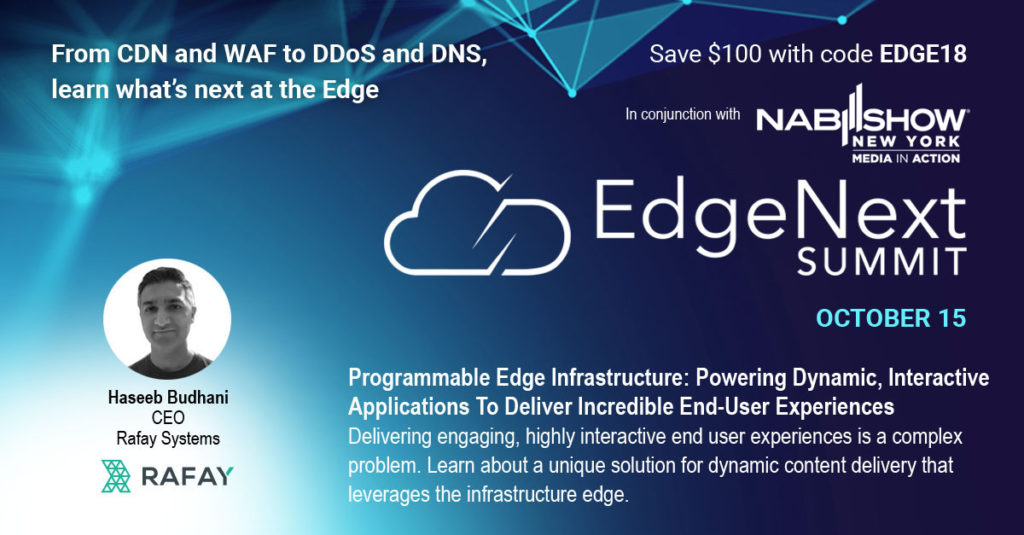 Delivering engaging, highly interactive end-user experiences is a complex problem. Developers and operations engineers understand that they need to augment their static object caching strategies with solutions to deliver dynamic content faster to end points. But as applications become progressively more dynamic, existing solutions are hitting a wall and are unable to keep up with the transport demands that dynamic content imposes. At the EdgeNext Summit, taking place Monday October 15th in NYC, Haseeb Budhani, CEO of Rafay Systems will discuss a unique solution for dynamic content delivery that leverages the infrastructure edge.
Held in association with NAB Show New York, the one-day EdgeNext Summit will focus on content distribution at the edge and all that is taking place with CDN, WAF, DDoS, DNS & more. With a focused lineup of companies showcasing all the new decentralized ways services are being brought closer to the eyeballs, you'll hear how the Edge is improving the end-user experience. From the last mile to the last inches. What's next at the Edge?
Use my personal discount code of edge18 and get a pass for only $495. #edgenext