Beyond Content Delivery: Identifying Which Edge Applications and Edge Platforms Are Ready To Go Today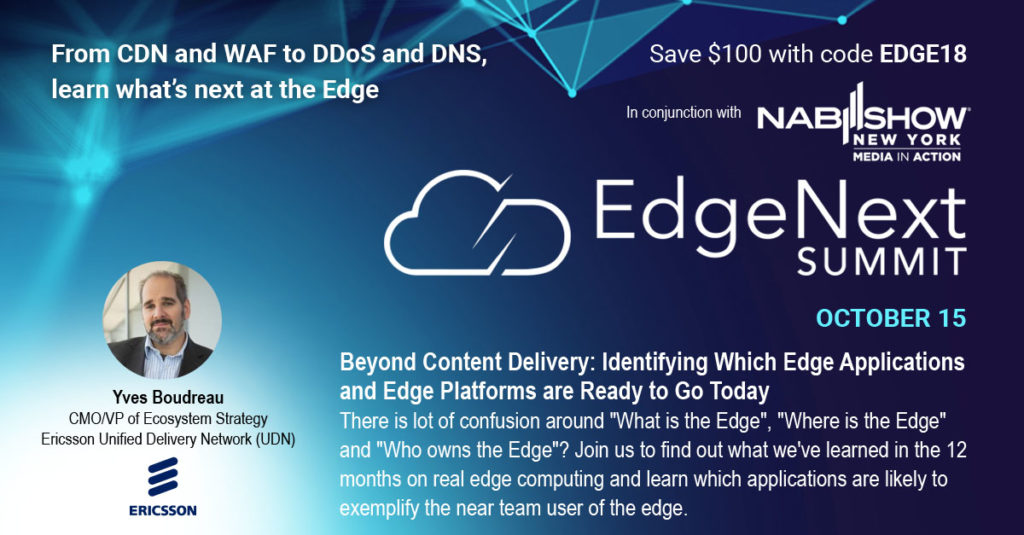 With all the hype of edge computing and edge cloud, everyone is now claiming to have products that are focused on the "Edge". This branding and edge washing has created a lot of confusion around "What is the Edge", "Where is the Edge" and "Who owns the Edge"? Furthermore, the futuristic view around autonomous cars, virtual reality and remote surgery is over used: is this the best we can do for use cases for edge?
At the EdgeNext Summit, taking place Monday October 15th in NYC, Yves Boudreau, CMO/VP of Ecosystem Strategy for Ericsson's UDN will discuss what they have learned in the 12 months on real edge computing and learn which applications are likely to exemplify the near team user of the edge.
Held in association with NAB Show New York, the one-day EdgeNext Summit will focus on content distribution at the edge and all that is taking place with CDN, WAF, DDoS, DNS & more. With a focused lineup of companies showcasing all the new decentralized ways services are being brought closer to the eyeballs, you'll hear how the Edge is improving the end-user experience. From the last mile to the last inches. What's next at the Edge?
Use my personal discount code of edge18 and get a pass for only $495. #edgenext