AT&T's VP of OTT Media Products To Discuss DIRECTV NOW In Fireside Chat at Streaming Summit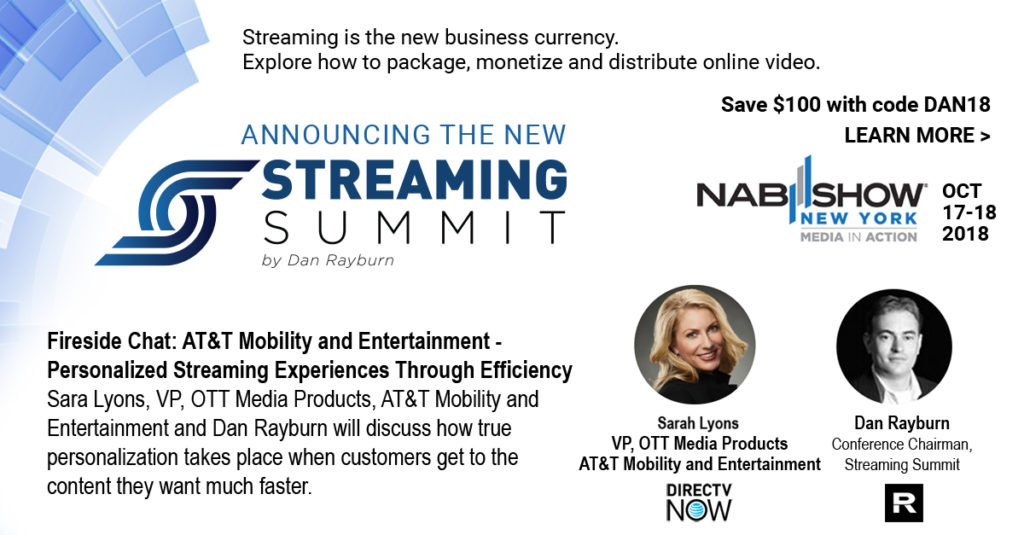 As new streaming services continue to enter the market, consumers are faced with more choices around what to watch than ever before. But while there's been a lot of industry buzz around using recommendation engines to help consumers find new content, AT&T has found that the vast majority of engagement on DIRECTV NOW is habitual.
At the Streaming Summit, taking place as part of the NAB Show New York on Oct. 17-18th, Sarah Lyons, VP, OTT Media Products, AT&T Mobility and Entertainment will join me in a fireside chat to explore how true personalization takes place when streaming services can help customers get to the content they want much faster, while using data to understand the right time and way to introduce new content.
Sara joins other execs I will be interviewing from Sling TV, Comcast, Facebook, PlayStation Vue, Google, NBC Sports, Hulu, Cheddar and Fubo TV. Combined with 100 other speakers and 40 presentations and discussions, it's going to be a great two days covering the entire streaming media technical and monetization workflow. Use my personal discount code of dan18 and get a pass for only $595. #streamingsummit