Announcing The EdgeNext Summit, Oct. 15th: From CDN and WAF to DDoS and DNS, Learn What's Next at the Edge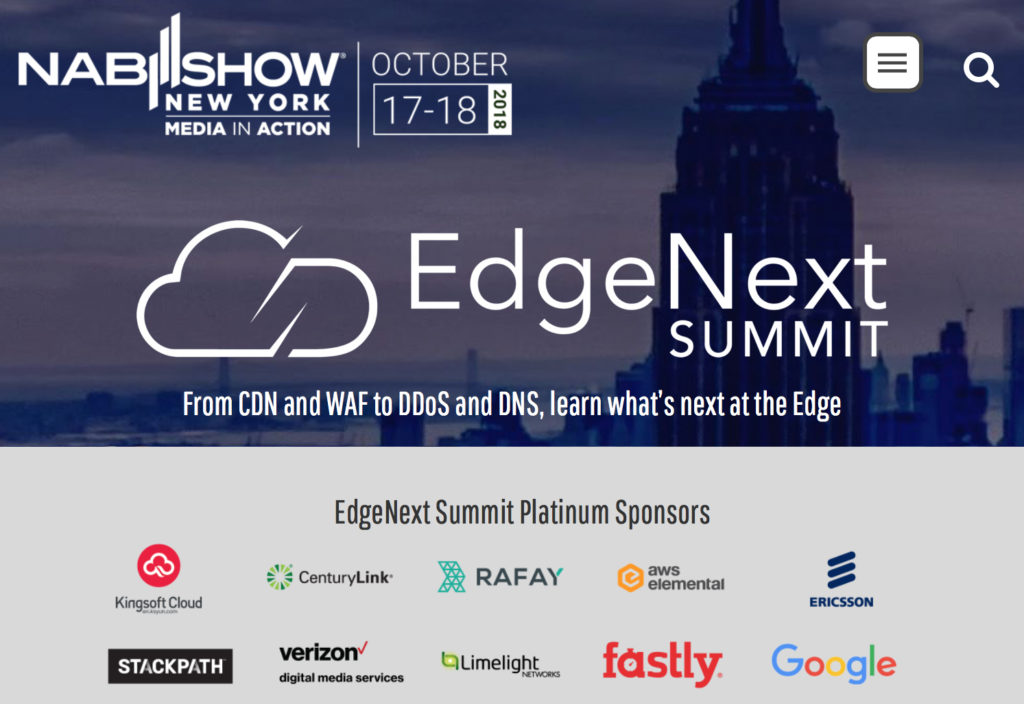 I'm very pleased to announce that in conjunction with my Streaming Summit at the NAB Show New York, we are also launching a new event called the EdgeNext Summit. Taking place Monday Oct 15th, the event will focus on content distribution at the edge and all that is taking place with CDN, WAF, DDoS, DNS & more. While CDN will be one of the applications the event focuses on, this isn't just another "CDN" show, but rather a "what's next for the edge" event, showcasing all the new decentralized ways services are being brought closer to the eyeballs.
The one-day Summit will be produced by me and promoted and marketed along with the NAB Show in New York and will take place at the beautiful Convene space near Grand Central. Platinum sponsors for the event already include AWS Elemental, CenturyLink, Ericsson, Fastly, Google, KingSoft, Limelight Networks, Rafay, StackPath, Verizon Digital Media Services and others to come.
With two tracks, and nearly 50 speakers, the EdgeNext Summit will feature a combination of technical use cases, case study presentations and fireside chats, of like-minded professionals with similar challenges and goals. If you're a Chief Architect; Director of Digital Ops & Distribution; Senior Software Engineer, Manager of Web Development, Content and Distribution Manager, or involved with Network Operations & Infrastructure, you'll want to come to the EdgeNext Summit.
Our goal is to make this event affordable to everyone, so you can register online using the discount code edge18 and attend the event for only $495.
Like you, I'm excited for what the future holds with new edge services and use cases and this is your chance to help shape the discussion and education around what's next for the edge. I welcome your ideas and thoughts at any time.