Networking Events At Streaming Media West Next Week – Lunch and Beer Garden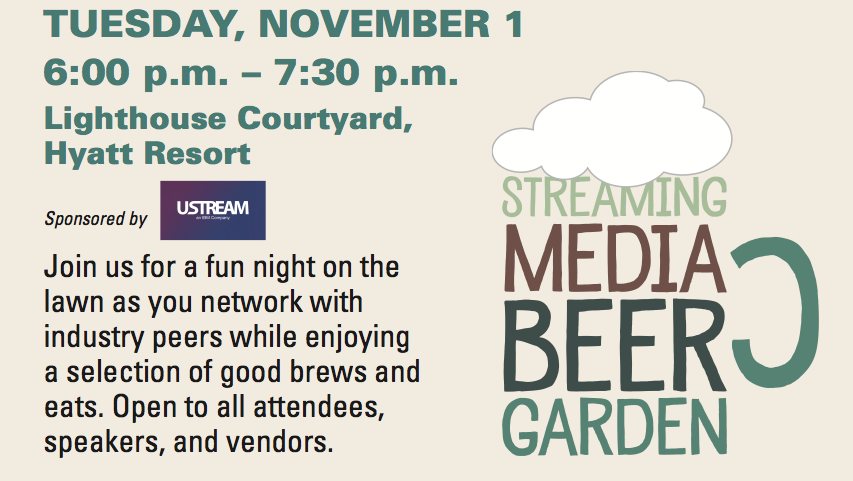 The Streaming Media West show kicks off next week, November 1-2 in Huntington Beach, CA. We've got 4 networking events all lined up that include lunch, the beer garden and other receptions. It's not too late to get a free discovery pass or full conference pass. Register online using code 200DR for a free discovery pass or $200 off a full conference pass.
Monday
Oct 31st 5:00 p.m. – 6:30 p.m.
Sunset Welcome Reception – Sponsored by Tulix
Location: Lighthouse Courtyard
Grab a drink, sit back, relax, and enjoy the sunset! Open to all full-conference attendees, speakers, and vendors. Tulix will be giving away an iPad Pro to one attendee at the reception.
Tuesday
Nov 1st 12:30 p.m. – 1:45 p.m.
Attendee Lunch on the Lawn – Sponsored By Neulion
Location: Lighthouse Courtyard
All full-conference attendees and speakers are invited to enjoy "Lunch on Lawn". After a full morning of sessions head on outside to the beautiful Lighthouse Courtyard for some California sunshine and networking with fellow attendees.
Tuesday
Nov 1st 5:00 p.m. – 6:00 p.m.
Exhibit Hall Reception
Location: Exhibit Hall
Enjoy drinks while getting a firsthand look at the leading software, hardware, and network solutions and services in the streaming media industry. Open to all conference attendees, speakers and exhibits-only attendees.
Tuesday
Nov 1st 6:00 p.m. – 7:30 p.m.
Streaming Media Beer Garden & Networking – Sponsored by Ustream, an IBM Company
Location: Lighthouse Courtyard
Join us for a fun night on the lawn as you network with industry peers while enjoying a selection of good brews and eats. Open to all attendees, speakers, and vendors.