Get Hands-On With More Than 50 Different Streaming Devices and OTT Video Platforms, All In One Room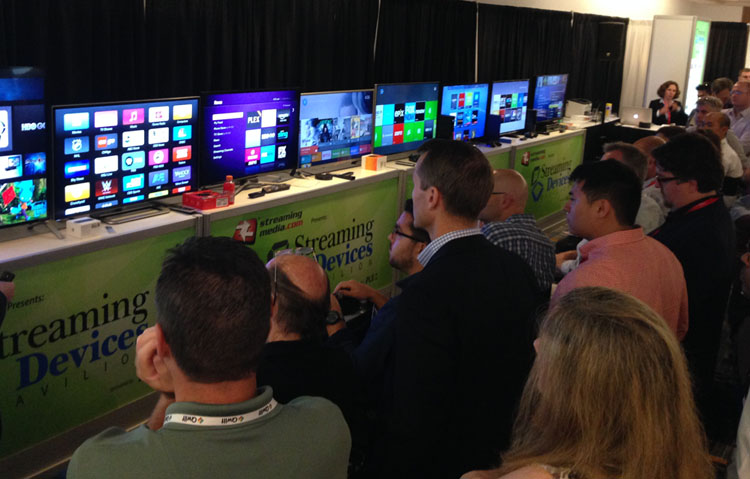 With all the smart TVs, game consoles, tablets and streaming media devices in the market, the OTT world is crowded with options. Trying to figure out which box offers the best choice of content platforms, quality and cost can be confusing. That's why we're bringing back the special "Streaming Devices Pavilion" [sponsored by Plex] at the Streaming Media East show (#smeast), May 10-11, letting attendees get hands-on with more 50 over-the-top (OTT) video devices and platforms, all in one room.
Want to see how Airplay works on devices? We have you covered. Interested to compare Netflix's HD video quality on the Roku 4 vs. Amazon Fire TV? You can do that. Want to see the latest 4K TVs and HDR streaming? Come test it out. Think of the Streaming Devices Pavilion as your own personal living room and put these devices to use!
The Streaming Devices Pavilion provides attendees with the opportunity to view the largest collection of over-the-top video devices and platforms that you can walk right up, experience them hands-on, and do it all for FREE. If you've ever wanted to compare OTT services and devices, side by side, in a real-world setting, this is the place to do it. The pavilion will be staffed by a team of device gurus who will be on hand to answer questions and we'll also be giving away lots of free gear.
Devices and platforms available for testing will include the following:
Content Platforms: Apple, Netflix, Hulu Plus, Amazon Instant Video, HBO Go, HBO Now, Epix, Vudu, YouTube, Google TV, Google Play, WatchESPN, MLB.TV, Xbox LIVE, PlayStation Network, NHL GameCenter, NBA League Pass, Plex, CBS All Access, Showtime, Crunchyroll, Fox Sports Go, M-GO, MLS Live, Sling TV, Twitch, WWE  and others.
Streaming Boxes/Tablets: Apple TV, Roku 3/4/Stick, Amazon Fire TV/Stick, Google Nexus Player, Google Chromecast, Xbox One, PlayStation 4, Goolge Nexus Tablet, Apple iPad, Amazon Fire Tablet, Samsung Galaxy Tablet, TiVo Bolt, NVIDIA Shield, Slingbox.
Smart TVs: A variety of TVs from Vizio, Sony, Samsung, LG, Sharp, TCL, Roku.
You can register to attend the device pavilion simply by going online and registering for a FREE discovery pass using code 200DR16. That's it. It's quick, easy, costs you nothing and you may even go home with some new gear!
And if you are a member of the media, register to attend the event and I will be happy to personally walk you through the devices and platforms, point out the strengths of each box and give you all the details to need to know to compare these devices and platforms in the market.
A big thanks to Plex for sponsoring the pavilion.