Reminder: Streaming Media Mixer: Beer, Food – Wed. April 27th, NYC
Come join fellow Streaming Media professionals for a night of drinks and food, hosted by Dan Rayburn. I will cover $1,000 in drinks until it's gone.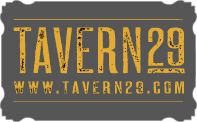 Wednesday, April 27th, 6:30pm – Tavern29, NYC
47 E.29th Street, Bet.Park & Madison
http://tavern29.com
No presentations or pitches, leave the laptop at the office. Meet industry people and drink good beer.
We will be on the second floor and if enough people RSVP, we will move it to the rooftop beer garden. Please RSVP so I have a rough idea of how many people might show up and I can email you if there are any last minute changes.
PLEASE RSVP TO: mail@danrayburn.com
MAKE SURE YOU BRING ID, you can't get in without it, they card at the door.
Since this is the first one of these I am doing, I have no way to know how big the crowd might get, and the place maxes out at 150 people. So if it turns into chaos, or you can't get in, I apologize in advance. I plan on doing these monthly.