The Early History Of The Streaming Media Industry and The Battle Between Microsoft & Real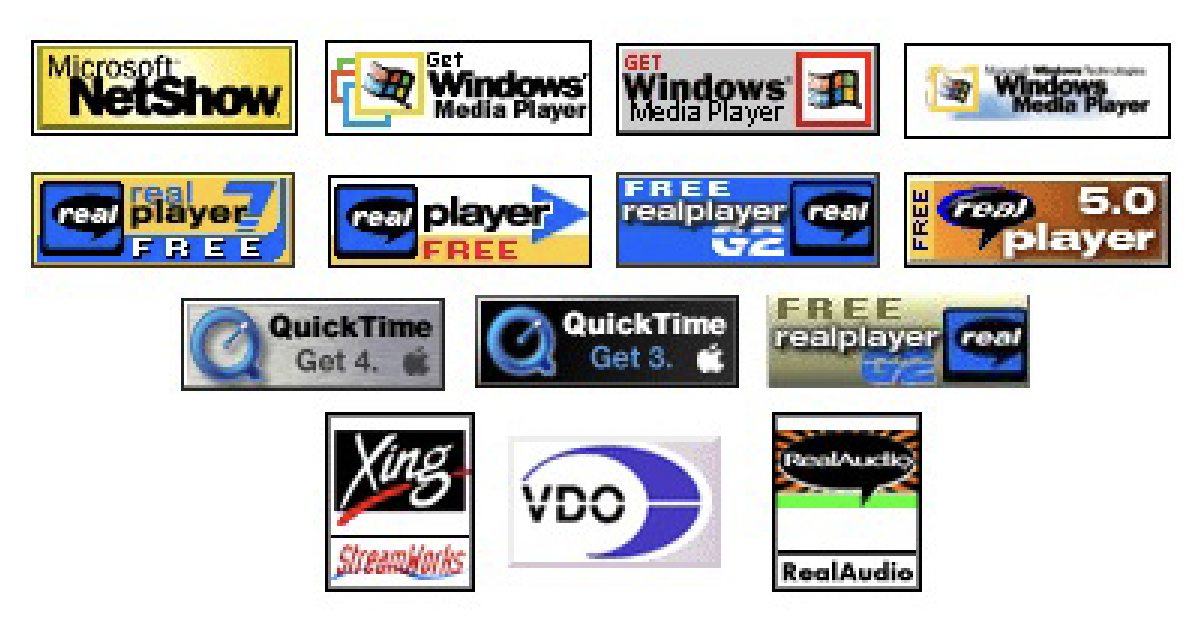 2015 marked the 20th year of the streaming media industry and for many who weren't around in the early days of the Internet, the history of how the streaming media industry started isn't a story they know. Fewer still are aware of the role that RealNetworks and Microsoft played in growing the industry and helping to foster the adoption of streaming media content, thanks to their deep pockets and marketing muscle in the late 90's. If you didn't work in the streaming media industry during that time period, you would have no idea just how fierce the battle between Microsoft and RealNetworks really was. Words can't describe how competitive the market was at the time or the amount of advancements that took place in the industry within a two-year period. You really had to live through it and be working in the industry during the early years to appreciate it. So for those that want a history lesson, or want to re-live the old days, here's how it all started.
Progressive Networks is considered by many to have started the streaming media industry with their launch of RealAudio 1.0 in April of 1995. While they ushered in the era of the early days of the industry, with audio only streaming, they weren't the only company at the time working on streaming technology. Others including Vivo, Xing, VDOnet, VXtreme and Microsoft were also developing their own platforms. Xing, which had an MPEG tool suite at the time, launched their StreamWorks platform, which supported not just audio, but video as well, just after Progressive Networks. So while many want to point to just one company that founded or started the industry, the fact is that no single entity or person deserves all the credit.
Microsoft was already working on video technology as early as 1993, when their video for Windows development kit was sent to developers that year. Microsoft's video server technologies, originally code named Tiger, (because it sliced data into "stripes" for storage) led to its innovation in streaming media and was first demonstrated in 1994. Microsoft tried to provide the answer with "My TV" Microsoft Interactive Television, or MITV for short, but aside from the catchy acronym, MITV didn't have much going for it. Progressive Networks spent more money and had an aggressive expansion plan and out executed everyone else. Progressive Networks got all the traction in the market and quickly became the default platform in the industry.
Progressive Networks radio webcast on September 5, 1995 between the Mariners and Yankees is considered by most to be the first major live sports webcast on the Internet, but no one truly knows who did the first webcast. Some say it was the Rolling Stones concert in November of 1994 over the Mbone, but others disagree. Frankly, it doesn't matter. There were a lot of very smart people working on audio and video technology at the time that helped contribute to getting the industry off the ground. But Progressive Networks rightly deserves a lot of the credit and was the primary company responsible for the wide adoption of audio and video streaming with content owners, and consumers, from 1995 to 2002.
In October of 1995, Progressive Networks launched version two of their platform, RealAudio 2.0, and pretty much owned the entire audio streaming market at the time. Then in September of 1996 they launched RealAudio 3.0, with the help of Sheryl Crow's single "If It Makes You Happy". This ushered in the era of good quality music streaming as well as Microsoft's entry into the industry. In 1996, Microsoft made an investment in VDOnet, a small company with some Internet video broadcasting technology, acquiring a 5% stake in the company. Microsoft then launched version 1.0 of their own player, called NetShow, in conjunction with the launch of Microsoft Internet Information Server 3.0 at Internet World. A year later, in 1997 Microsoft announced a licensing and standards development deal with Progressive Networks and made a minority investment, taking a 10% ownership in the company. For a short time, it looked like both companies were going to work with one another on streaming media protocols and technology, but their partnership would soon fall apart.
In August of 1997, just two weeks after Microsoft announced their deal with Progressive Networks, Microsoft purchased VXtreme, a small audio and video startup that was Progressive Networks number one competitor at the time. Founded in 1995, with Cisco and Informix Software as investors, VXtreme had a line of Internet video products including Web Theatre Server, LiveStation and a Web Theatre Client plugin for Netscape and Microsoft browsers. Adding VXtreme's technology to Microsoft's streaming platform really gave them the foundation they needed to begin to challenge Progressive Networks, which changed their name to RealNetworks in September of 1997 and went public in November later that year.
Also in 1997, RealNetworks announced a new broadcast network in a deal with MCI that layered RealNetworks software on top of MCI's Internet backbone, with the goal of being able to support up to 50,000 simultaneous streams. This was the early incarnation of what would later become RBN (Real Broadcast Network) and was the first major effort to try and bring video to the masses via a dedicated content delivery network. The company also announced the fourth version of their platform in 1997, RealNetworks 4.0, which saw the debut of RealVideo and only a few months later, released RealSystem 5.0, adding support for Macromedia Flash. RealNetworks still dominated the market with more than 500 radio stations using their platform and announcing more than 15M users of their software.
By the end of 1997, things in the industry had started to change. Companies realized that streaming media technology and the services that went along with them including encoding, delivery and hardware was going to be a real business. Vendors like Sun, Cisco and others latched onto the streaming market with hardware that others needed to deploy and use platforms from RealNetworks and Microsoft. Technology that was once only thought of as low bitrate, poor quality audio streaming was now being applied to video centric, high-bandwidth (100Kbps) applications. The race in the industry was now on and Microsoft decided they wanted a piece of the pie and would start to aggressively compete against RealNetworks. As 1998 rolled around, the streaming media market really started to mature and big business was now at stake.
After Microsoft's acquisition of VXtreme, Microsoft used their new technology and really started directly competing against RealNetworks with the launch of NetShow 3.0 in mid 1998. Bad blood between the companies soon ensued. RealNetworks CEO Rob Glaser accused Microsoft of purposely taking measures to break RealNetworks RealPlayer software in order to stifle competition. In July of 1998, after a Senate Judiciary Committee hearing on competition in the software industry, which Rob Glaser testified at accusing Microsoft of unfair practices, Microsoft sold their 10% stake in RealNetworks saying that the companies would go in different directions. By now, the battle was on.
RealNetworks added to their technology portfolio and acquired Vivo in March of 1998 and a month later, launched RealSystem G2. Real's new platform was a complete re-architecture of their system and provided support for RTSP, SMIL, JPEG and GIF. VDOnet fell on hard times and after their CEO resigned, the company laid off employees and closed up shop. In July of 1998, Citrix acquired VDOnet's assets and came out with a product called VideoFrame, which failed less than a year in the market.
This left RealNetworks as the still dominate force in the market in 1998, but Microsoft was starting to get traction. Later that year, Microsoft put a ton of money, marketing and man power behind their audio and video platform, hired a lot of employees and went after the media and entertainment market that RealNetworks had always owned. Microsoft started closing deals and getting content owners to use their platform in addition to RealNetworks and this was the period of time in the industry when many content owners started making their content available in both RealNetworks and Microsoft's formats. It was the first concrete sign that RealNetworks domination of the market was being challenged. Microsoft also got a big win later that year when they foot the bill to have President Clinton's grand jury testimony streamed in their format for many of the major news websites.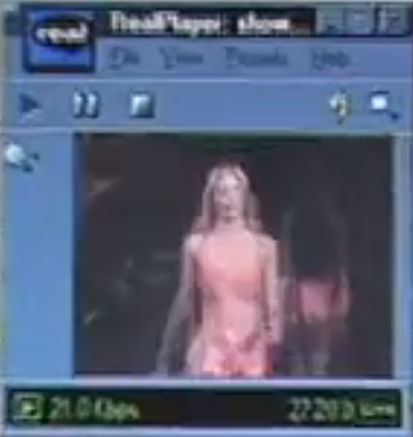 By the start of 1999, streaming media usage exploded and really became mainstream when on February 5th of 1999, Victoria Secret did a live webcast of their annual fashion show. The video window wasn't much larger than the size of a postage stamp and the frame rate and buffering was terrible. But viewership numbers released after the event were in the millions and even though many complained about the poor quality, live streaming was here to stay and was about to be catapulted into the stratosphere. Later that year, another large-scale live event, NetAid, brought even more exposure to streaming media industry when Cisco pooled together many vendors in the market to try and bring the event to a worldwide audience. Then when Yahoo bought Broadcast.com for $5.7B, the deal cemented the enormous expectations people had for where everyone thought the streaming media industry was headed.
In April of 1999, RealNetworks acquired Xing Technology and in October, Microsoft renamed their platform Windows Media. Microsoft's strategy of bundling their Windows Media Server software with their Windows NT Server, as opposed to RealNetworks approach of making large companies pay hundreds of thousands of dollars for it was starting to pay off. The service provider I worked for at the time, Globix, paid $187,500 for a RealServer software license to be able to support 7,500 simultaneous streams and then on top of it, had to buy servers, at least until Linux came along. In some cases, Windows Media Server deployments inside CDNs at the time cost 75% less than RealServer to deploy. As a result, some content delivery networks started charging content owners a premium to deliver content in RealNetwork's format versus Microsoft's. Content owners started re-thinking why they should spend more money to deliver content using RealNetworks' platform when Microsoft's media server elements, encoder and player software was all free. Microsoft really ramped up their marketing that year and even brought out Bill Gates as their keynote speaker at the Streaming Media West conference in December of 1999 to highlight the use of digital audio and video, as the "next major wave of Internet computing."
At the same time, little known to anyone outside of a small group of industry insiders, throughout 1999 and 2000, Microsoft had been quietly giving content delivery networks and webcasting production companies millions of dollars in what they called "net credits". The idea was that these vendors could go to content owners and tell them that they would convert and host the customers content in the Windows Media format, and Microsoft would pay the cost, usually for the year. The service provider I worked for at the time got hundreds of thousands of dollars in net credits in just one year, and larger CDNs like InterVU, iBEAM and others got millions. This was the peak of the streaming media industry, late 1999, with lots of Microsoft dollars flowing into the market, which helped many of these vendors, like InterVU, build out their network for scale. Only a year later, InterVU would be bought by Akamai in a stock swap valued at roughly $2.8 billion and Microsoft's net credit dollars was a big reason for InterVU's growth.
While Microsoft and RealNetworks competed with one another, both companies really had a different strategy and vision for their platforms. Microsoft's primary interest wasn't in defeating RealNetworks as a format/player, its real motive was in containing licensing costs for codecs. Taking the then license for MP3 and MPEG2 and including those technologies in Windows was going to cost Microsoft as insane $600 million per year of top line revenue. Had RealNetworks established their own codecs as the defacto standard, Microsoft could have been forced to license RealNetwork's technology for even more money. It cost far, far less for Microsoft to buy a codec company and spend a fortune developing an ecosystem then it did to take these licenses.
Another big difference was that unlike RealNetworks, Microsoft didn't care as much about their player, it was created to make Windows better. It was considered a Windows component and important, but much of the development effort went into the server, format, and codecs. RealNetworks was much more of a "front-end" company and the main thing RealNetworks cared about was their player and the revenue from it. Everything else they did was designed to support their player, which was evident by the fact that even though RealPlayer was free, there was also a plus version that came with more functionality but cost users $29.99.
In 2000, at the crest of the Internet bubble, RealNetworks and Microsoft both came out with newer versions of their platforms and worked hard to out maneuver one another with more features and functionality. RealNetworks also announced they had more than "75 million regular users" of their RealPlayer. While it looked like that nothing was going to stop the growth of the streaming media industry, and the progression of the technology, cracks in the market were already starting to show. The streaming market, and entire Internet industry for that matter, was soon headed for a fall that would take most vendors by surprise.
Companies that had raised millions, and in some cases billions in venture capital, weren't growing revenue as fast as many had predicted. Some companies had no real revenue or business plan at all and never should have been invested in to begin with. Most vendors weren't anywhere close to turning a profit, with some losing hundreds of millions a year. Companies tried to grow too big, too fast and assumed that market growth rates would exceed their own growth numbers, but they didn't. RealNetworks saw what was coming, but like many, didn't think the impact would be so severe. As RealNetworks CEO said in a letter to shareholders in 2000, "the underlying drivers for the change in our financial results are not trivial", but the company felt the impact of these changes would only take "several months to work through." They and others were severely wrong.
In reality, the industry had been setting itself up for failure by setting financial expectations and guidance that vendors had no shot of reaching. Many originally dismissed this as market growing pains because they were blinded by greed, a wave of exuberance and were sacrificing growth over profits. They wanted to believe all was well. But in late 2000, the unrealistic and self-inflated numbers finally started to catch up with the majority of companies, in all Internet sectors, and investors took notice. For many the money was gone and funding dried up as investors begun to realize they were on the losing end of tens, if not hundreds of billions of dollars. The dot com bubble burst caused the loss of $5 trillion in the market value of companies between 2000-2002.
When the larger Internet bubble burst, it trickled down into every segment of the market, including the streaming media industry. Content owners that were rushing to get all their content online quickly realized they had no way to make money from it and started to pull back. Advertising dollars dried up. Some vendors literally closed their doors overnight and started going under at the end of 2000, but it was really 2001 that it all fell apart. Even larger companies like Cisco, who had a legitimate business felt the pressure, with their stock losing 86% of its value in a short period of time. For the majority of the vendors in the streaming media industry, it was all over. Those vendors that did survive, really scaled down their operations and stopped spending money, cutting costs anywhere they could. By my estimate, at least 75% of all the vendors in the streaming media industry went out of business between late 2000 through the end of 2002. To put it in perspective, at the 2000 Streaming Media West trade show, there were over 700 exhibitors on the show floor. When the show was started back up again in 2004, there was a total of 24 exhibitors.
In March of 2001, RealNetworks announced a three-year deal with Major League Baseball to create a subscription service including live audio webcasts. While it was the biggest premium content deal in the market at the time, and important for the progression of the industry, it came as the market was crashing. Only four months later, in July, RealNetworks laid off 15% of their employees as their revenue from server licenses to companies that had gone bankrupt and advertising revenue started to disappear fast. Contracts went into default, companies couldn't collect what they were owed and many vendors had to lay off employees. RealNetworks quickly tried to change their business model and source of revenue by starting a content subscription service called RealOne, which they launched in December of 2001. A month later they had 500,000 paying subscribers, but it wasn't enough.
Seven months later, in August of 2002, RealNetworks did another round of layoffs, this time 11% of their company, closed selected offices and canceled their annual user conference. By now, the battle between RealNetworks and Microsoft was almost over, as the market for video services on the Internet literally disappeared. New content wasn't going online and no major improvements to streaming media technology was being developed. The industry was at a stand still.
In 2002, RealNetworks introduced their Helix initiative, along with their Helix Universal Server and released substantial parts of the source code under an open source license. But it was the end of RealNetworks as an audio and video platform. Between 2000-2002, RealNetworks lost 51% of their revenue from software license fees and 83% of their advertising revenue. Microsoft came out with Windows Media 9 in September of 2002 and it offered better quality than Real, was free as part of the Windows platform and had the tools and ecosystem that content owners needed. It was at this time in the industry, when the market shifted and it was no longer about codecs and formats. Helix was the last major software release for RealNetworks which then got into the music business, including a partnership with Sony later that year, and launched one of the first major efforts to sell and deliver music from major record labels over the Internet. In the following years RealNetworks acquired music services and gaming companies and was out of the streaming media platform market.
And just like that, in less than 18 months, arguably the most important company responsible for the growth of the streaming media industry was no longer in the market they started. But that wouldn't be the last the industry would hear from them. In 2003, RealNetworks filed a federal antitrust lawsuit against Microsoft for anti-competitive practices, for amongst other things, bundling their Windows Media Player with the Windows operating system and bundling its media-server software with its server operating system. Two years later, in October of 2005, Microsoft settled with RealNetworks agreeing to pay a $460 million up-front cash payment to resolve all damages claims and gave RealNetworks long-term access to important Windows Media technologies that enhanced Real's media software solutions. RealNetworks is still around today, but gets most of their revenue from games and other sources of online content and software.
By 2005, Microsoft's streaming media division, which had been renamed to the Digital Media Division with over 1,500 employees, and fell under the Windows Platform team, had served its purpose. Windows Media streaming won out and as result, Windows Servers had value over Linux. And with Microsoft being involved in codec development that lead to many patents, and these becoming part of H.264, Microsoft directly changed the pricing for H.264 through years of effort. As a result, Microsoft could license it for Windows unlike MPEG2, which clearly helped the industry as a whole. With the format battle now over, the Digital Media Division was looking for new competitors and reasons to exist. Enter Apple.
Apple had released iPod and iTunes for Windows, and Microsoft was struggling to figure out how to compete. The Digital Media Division owned this problem for Microsoft and came up with things like PlaysForSure to 'unite' the industry in a non-Apple ecosystem. But Microsoft really did not have any good solutions on how to challenge Apple as this was a whole different type of competitor. So post Vista, Microsoft execs did not see entertainment and streaming technologies as core to competing with the resurgent Apple. Streaming and codecs – "who cares, we won, and Macromedia and Adobe are not real competitors", was the attitude of many inside Microsoft.
After much debate at the Ballmer/Gates level, it was decided that Robbie Bach (head of Xbox) would 'own the Apple compete problem' since Apple was viewed as entertainment threat, not an OS threat, and certainly not a threat to the Windows Mobile group. With that mandate handover, the Digital Media Division was broken up in late 2005. The devices folks and subset of Windows Media Player went to work on Zune (but under the hardware device team from Xbox), and codecs and DRM went to phone group. Some also went to the tools team that was an offshoot group of .net that became the Silverlight group to try to compete with Flash. But as many who worked at Microsoft at the time would tell you, when there isn't a competitor, Microsoft loses focus, and Flash wasn't yet a threat.
While Microsoft beat RealNetworks in the end, years later, Apple would beat everyone following the intro of the iPod and iPhone. Adobe would then take over with Flash, but even that became irrelevant with HTML5 and also lead to the death of Silverlight. In the end, Microsoft, Real and Adobe would all lose out in the video format/platform market, twenty years after it started. It's also worth noting that all of these video platforms would have gone nowhere if it wasn't for content. Software wouldn't have driven downloads without nothing to listen to or watch. Content has and always will be king.
While this isn't the complete history of the streaming media industry, talk to any veteran of the space and they will tell you what the early days were really like. It's hard to capture in words the excitement, excess, competitiveness and startup culture that existed at the time, something the streaming media industry will never see again. For me personally, the twenty years have gone by fast and the advancement in the technology, and adoption of streaming applications, has taken far longer than most predicted. But that hasn't stopped many people from continuing to try to improve on it every single day. Here's to the next twenty years.
Note: My thanks to the numerous former Microsoft and RealNetworks employees and execs that I interviewed for this piece that provided much of the details I had already forgotten.