Mike Dunkle, Network Infrastructure at Valve To Keynote Content Delivery Summit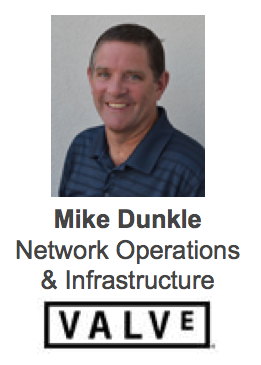 I'm pleased to announced that Mike Dunkle from Valve's network operations and infrastructure group will be the opening keynote at the Content Delivery Summit, taking place Monday, May 11th, at the Hilton Midtown in NYC. If you've ever wondered how a platform to support 100 million registered users gets built, this is the keynote to attend.
Now in its seventh year, the Content Delivery Summit is the place to meet those who are building out some of the largest public and private CDN deployments to date. Attendees will see case studies on real-world deployments, demos of new technology platforms and discussions on business models for both on-net and off-net delivery. But it's not just about streaming and last-mile video delivery. The summit also covers other web acceleration technologies including dynamic content delivery, transparent caching, app acceleration, QoS measurement, front-end optimization, mobile content acceleration and more.
The call for speakers for the Content Delivery Summit is still open, so if you have interest in speaking at the event, now is the time to send in a submission or contact me. Online registration for the event will open within the next two weeks. If you would like a discount code for the event, email me and I'll be happy to send you one.