Here's The Program For Streaming Media West Show: Now Placing Speakers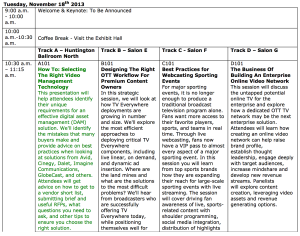 The advance program for the 2014 Streaming Media West show (#smwest) taking place Nov. 18-19, at the Hyatt Regency Huntington Beach Resort & Spa in Huntington Beach, CA is now complete.[view the entire agenda here] Speaker placement has officially started and our first batch of speakers from Netflix, FOX Networks, DIRECTV, NY Times and YouTube have already been confirmed. Speaking spots will go fast, so if you are interested in being considered for one of the speaking spots, or placing someone from a company on a session, please contact me. As always, vendors who bring customers will always get picked before vendors that don't bring customers.
If you have any questions at any time about the program, what a session will cover, how the selection process works, or need help choosing the right session, you can call me (917-523-4562) or send email. However I find it is much easier to discuss it on the phone rather than email and many times, I can give you an answer on the spot. So please feel free to call at any time.
You can view the entire agenda here, and below is a list of all the session titles:
How To: Selecting The Right Video Management Technology
On-Premises Or In The Cloud: Choosing The Best Live Video Workflow
Best Practices for Webcasting Sporting Events
Netflix's Video Workflow: Transcoding, Codecs, and 4K Streaming
How YouTube Lost at Becoming The Next TV Network
Designing The Right OTT Workflow For Premium Content Owners
How To: Building A Chromecast Application
Streaming Live Events When There Is No Room For Failure
The Business Of Building An Enterprise Online Video Network
How To: Multi-Cam Shooting, Editing and Delivery On An iPad
TV Everywhere Trends And What It Means For The Future Of Television
Using YouTube For Original Content Distribution
How To: H.265 vs. H.264: Choosing The Best Options
Content Management Strategies for Enterprise Content Platforms
Measuring The ROI On An HEVC Deployment
Best Practices for Search & Discovery in a Connected World
How To: Producing and Distributing HEVC
Replacing Flash: Adaptive Streaming and DRM in HTML5
Streaming Deployment Architectures in Higher Education
How To: Building Enhanced Video With JW Player
The Risks and Rewards of Employee-Generated Video
The Business of Delivering Multi-Platform Content
How To: Building a Streaming HTML5 Video Player
Using Media Optimization To Improve Streaming Performance
Building Streaming Apps: Choosing The Right Devices & Platforms
How To: Changing Viewer Engagement with Second Screen Experiences
Building an Immersive Online Television Experience