50% Of Speakers Announced For Streaming Media East Show, Spots Closing Fast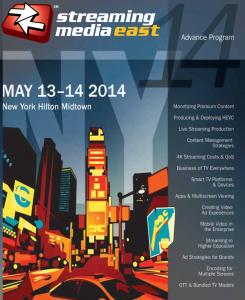 Programming for the Streaming Media East show, taking place May 13-14 in NYC, is coming along nicely with more than 50% of the speakers now placed. We've gotten a lot of great proposals this year and spots are filling up much faster and earlier than past shows. With 50% of the program now filled, if you wait too long to get back to me about what session(s) you want to speak on, they may no longer be available. Many companies have the agenda and are looking it over, but if you wait weeks to decide, spots will be gone.
Every year come late March and into April, I get a lot of inquiries from companies who really want to speak at the show and are very disappointed when nearly all the spots have been filled. So I want to make sure I give everyone fair warning that the show is filling up even faster this year. As always, you can reach me anytime at 917-523-4562 with any questions or speaking pitches.
You can see the full lineup of confirmed speakers here, and some of the content/broadcast companies include: Netflix, A+E Networks, Yahoo!, LG, EPIX, Viacom, WWE, Fox News Digital, MLBAM, CNN MediaCom, AOL Video, Huffington Post, Verizon, NY Giants Football, Scripps Networks, MTV and others.
Some of the enterprise and education speakers include: Prudential, NASA, SymantecTV, NASDAQ, CME Group, The University of Toledo, University of Texas at San Antonio, Temple University, Syracuse University, Fox School of Business, T-Mobile and others.