Survey Results: Content Owners Say Tablets Are Most Important Device For Success Of OTT Services
The challenge for OTT video delivery is to be able to provide consistent, secure, and high-quality content to this ever-increasing number of device types, and to be open and flexible enough to accommodate changing consumer preferences. There's no question in the minds of executives that recently participated in a StreamingMedia.com survey that the prevalence of so many consumer devices from which they can view videos—not only PCs and tablets, but also smartphones and game consoles—means being able to meet a bewildering array of both open and proprietary technical specifications.
To illustrate how quickly hardware changes, the leading viewing device of choice in this survey did not exist three years ago. The survey shows that tablets rapidly have become the most important choice for OTT delivery. 80% of respondents say they are targeting delivery to tablets. 72% are also streaming to PCs/Macs, while 71% are also targeting smartphones. 80% agree that targeting multiple devices for video delivery is a key implementation challenge at this time.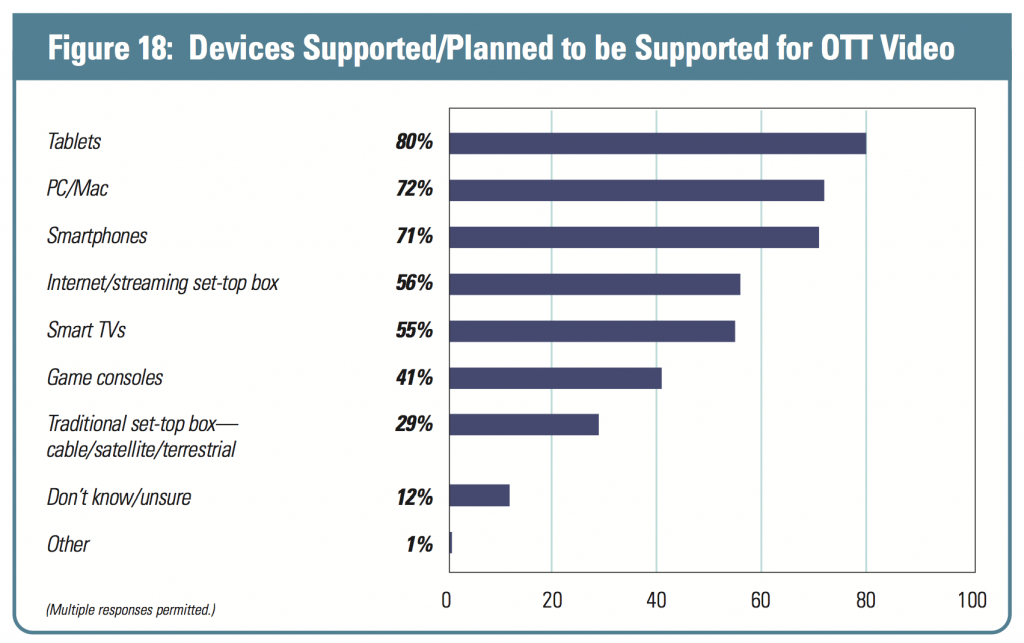 The survey also looked at the most popular operating systems underpinning consumers' viewing devices. The two leading mobile platforms—at least, leading at the time the survey was conducted—represent the systems most likely to be supported
by OTT providers. Android barely edges out Apple as the most popular target platform for OTT initiatives at this time, with 74% of respondents saying they support this platform. An extremely close second is Apple's iOS platform for smartphones and tablets, supported by 73%. The PC platform—once the dominant second-screen viewing device—ranks in the second tier of respondents' platform choices, with another 61% targeting Windows 8 as a target platform, and another 60% targeting MacOS.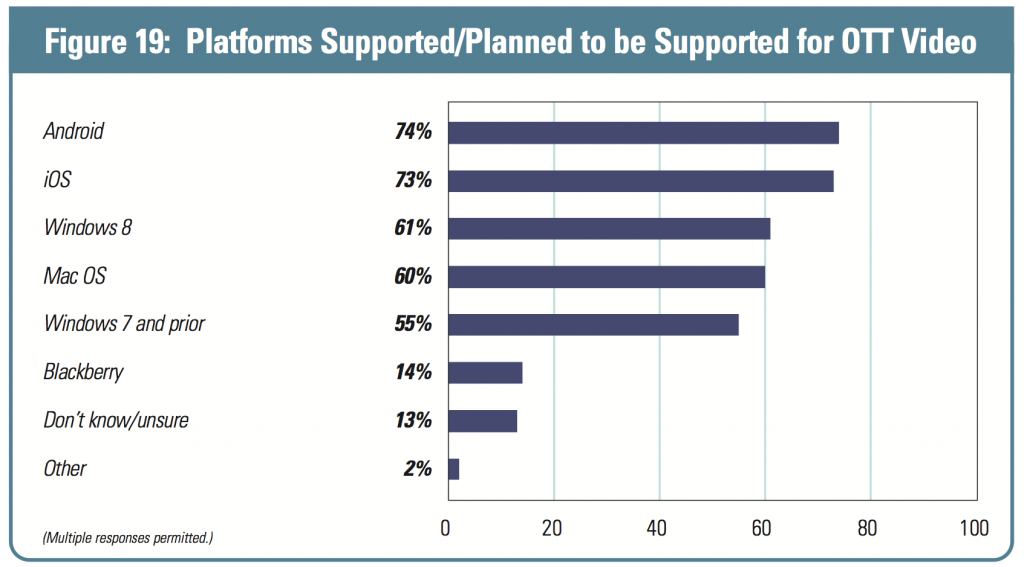 While consumers have a wide array of choices in terms of viewing devices, this also continues the fragmentation of the OTT space, in the view of one respondent. "At the moment, you need several different devices to view content from competing companies," the respondent points out. "You need a Roku, Apple TV, Amazon streaming, and several others, and you still don't get the full spectrum of available content. There needs to be a way to have all these outlets in one place so the TV area isn't cluttered with nine different types of content boxes."