Majority of Industry Executives Believe OTT Can Be Supported As Its Own Direct-Payment Channel
A majority of industry executives believe that OTT is valuable enough to support direct payments from consumers. These are some of the
findings of a new StreamingMedia.com survey
of 758 media industry executives, which sought to uncover their views on the current and future state of OTT video from inside the trenches. 54% say a monthly subscription-based model is the best economic model for OTT delivery. However, looking down the road a few years, there will be more impetus for charging consumers on a pay-as-you-go (rental or purchase, sometimes referred to as "pay-per-view") model for programming. Fewer executives see the monthly subscription approach as working over the long run—the percentage seeing this as the best revenue model slips from 54% today to 46% seeing it as feasible in five years.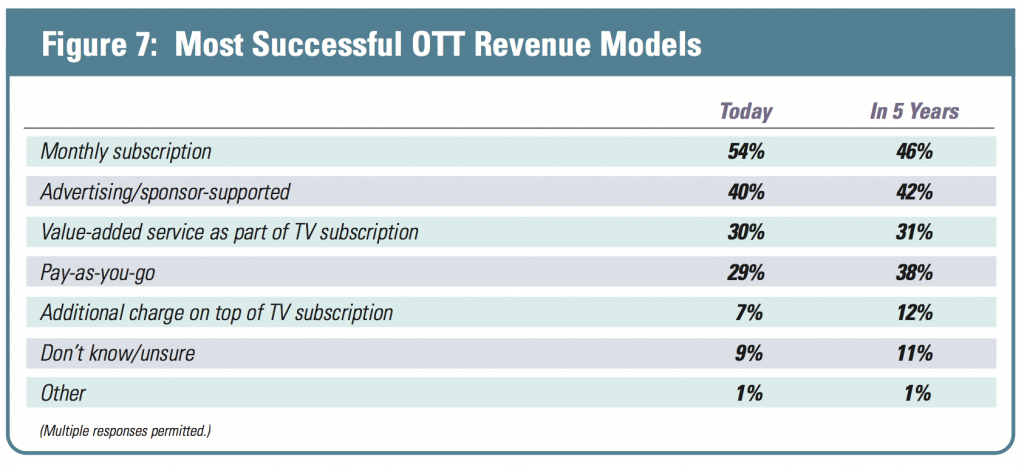 Instead, many executives predict the pay-as-you-go model for program delivery will catch hold over the next few years. Close to two-fifths, 38%, of respondents predict the pay-as-you-go model will prevail in five years, up from 29% that see it working today.
While in the minority, there is still a sizable segment of executives who believe in the advertising-supported model to monetize OTT programming, enabling faster distribution to a wider audience. About 40% support advertising-supported delivery, a number that will hold five years from now as well. There is less support for OTT as being delivered as an adjunct to traditional pay-TV packages. About 30% foresee OTT being funded as part of a value-added service as part of TV subscriptions, while only 7% feel it will work as an additional charge on top of TV subscriptions.
When looking across the three primary industry segments, there is general agreement that monthly subscriptions to OTT services are the dominant approach, and will remain so with a rise in pay-as-you-go plans as well. Pay-TV operators are more inclined than their counterparts to see more potential in bundling OTT services into pay-TV subscription plans.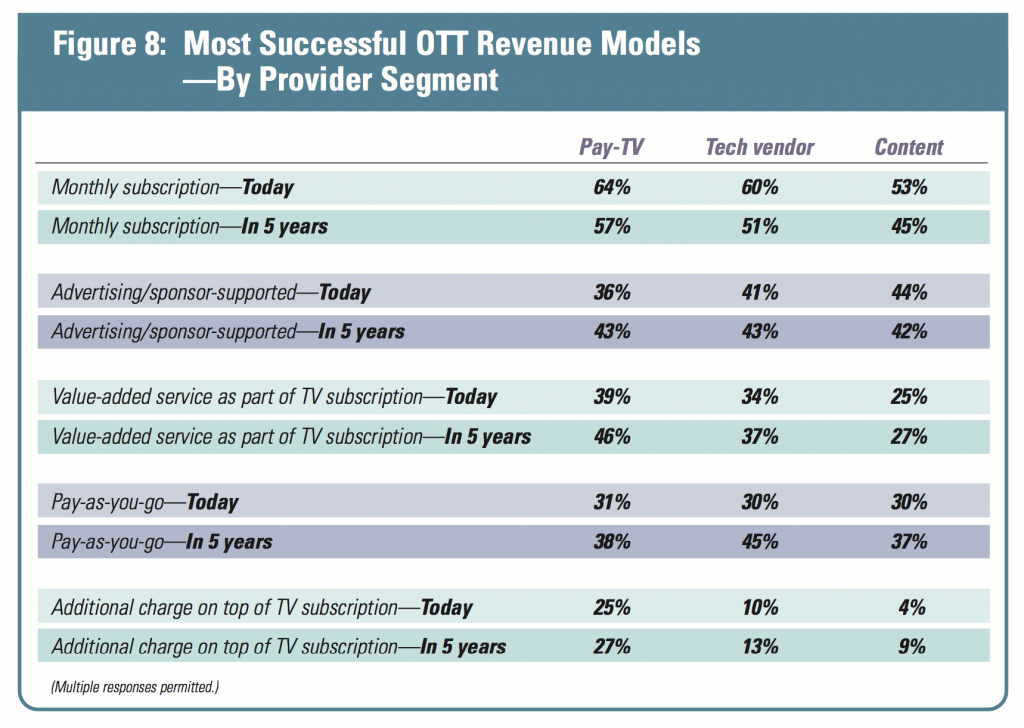 Ultimately, in the view of at least one respondent, pay-as-you-go is the most logical business model for OTT going forward. "If the costs are kept proportional, pay per view is the highest plateau of 'democratic' viewing," the respondent says. "Viewers are choosing the program, and their money can go directly to the source—producers and delivery providers— eliminating the need for commercials. That means more revenues for content creators and delivery providers." However, the respondent adds, there is still a place for commercials, which "can still find eyeballs if content is free to watch." To be successful in this new hybrid market, providers need to "trade in high-cost delivery, which only reaches a top tier of income earners, for more viewers at lower cost."
Full results from the report, entitled "OTT Video: Coming to a Paid Channel Near You" is available as a free download from the StreamingMedia.com website.