Smart Phones Made Up 59% of All Video Consumer Devices Sold in 2012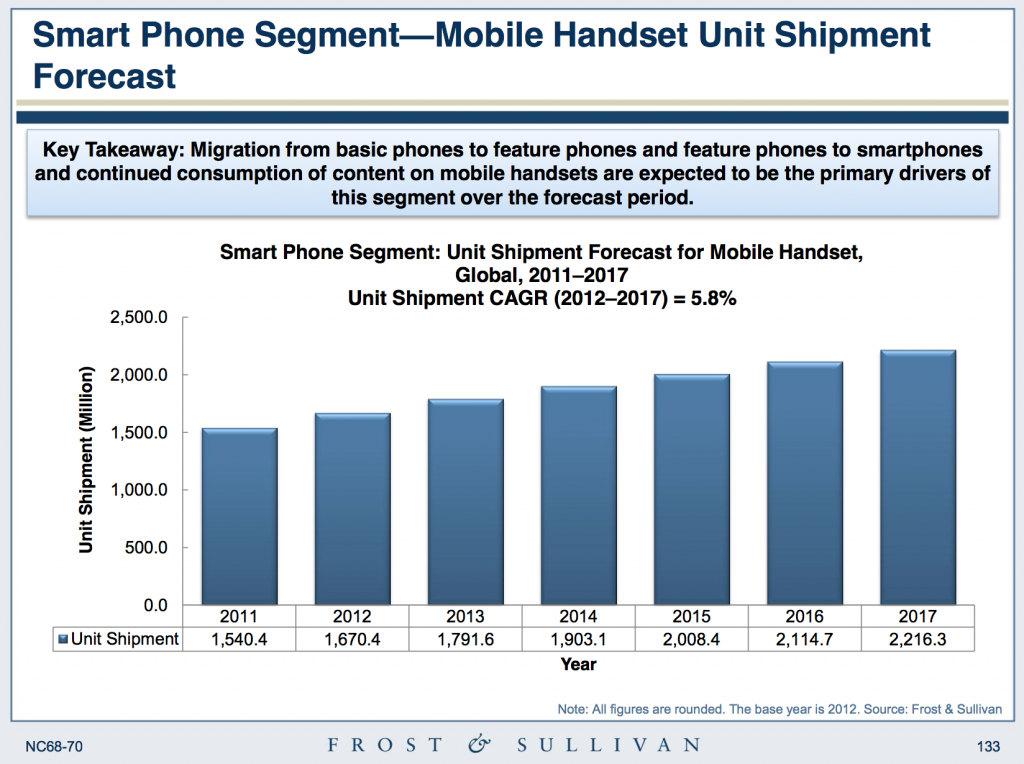 Of all the video device classes covered in our latest Frost & Sullivan report on the size of the Consumer Video Devices Market, smart phones arguably represent both the most mature market in terms of penetration and the most energetic market in terms of ongoing disruption and expected growth rates. In fact, of the more than 1 billion consumer video devices sold globally last year, smart phones made up 59% of the market. Migration from basic phones to feature phones and feature phones to smartphones and continued consumption of content on mobile handsets are expected to be the primary drivers of this segment over the forecast period of the report.
The total mobile handset market is expected to be mostly static as the high level of saturation of the market limits new sales predominantly to unit replacements and upgrades. That said, sales of both smart and feature phones are expected to grow as they continue to account for a growing percentage of mobile handset sales. In terms of units sold, smart phones are expected to surpass feature phones in 2014, although feature phone sales will still grow over the entire forecast period.
Greater competition among device manufacturers and service providers has led device manufacturers to reduce handset prices with the ASP for smart phones forecast to decline by a CAGR of 8.5 percent over the forecast period. Continued carrier subsidies and dumping of older models at fire sale prices is expected to drive affordability and reach of smartphones.
Copies of the report are available to any customer who has a subscription to Frost's Digital Media research service and anyone interested in getting a subscription can contact me for more details. Also, while many research analysts at other firms won't talk to someone unless they are a customer of that firm, I have and always will talk to any company who is interested in getting more details on any aspect of the video, streaming and content ecosystem. You don't have to be a customer of Frost & Sullivan for me to take your call and do a briefing with you, so call anytime.