Wednesday Webinar: Best Practices for Live Video Encoding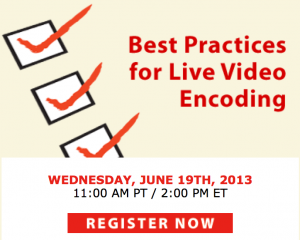 There's more to getting a live event online than just being there with a camera and a box. What efficiencies are you overlooking, and how can you ensure the best experience for the widest possible audience at the best price? What's missing from your toolbox? Wednesday June 19th, at 2pm ET, I'll be moderating another StreamingMedia.com webinar, this time on the topic of, "Best Practices for Live Video Encoding."
Join Ustream, Brightcove and Haivision for this event and learn how to:
Choose the right technologies and delivery platform for live streaming video.
Build lasting value into your seminars, product launches and training sessions combining Live, on-demand, and "as-live" linear video.
Plan and execute your live event workflow to ensure flawless delivery to every screen and maximize your audience reach.
Incorporate social media and audience participation for an engaging and interactive event.
We'll have a full Q&A session in which your questions will be answered and as always, all StreamingMedia.com webinars are free. So register here and save the date for this instructional webinar.