Streaming Media East Conference Videos Now Online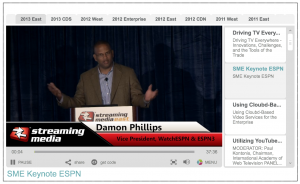 Thanks to a lot of really great speakers and presenters who covered content, business and technical topics around online video, we had a great Streaming Media East conference last month. Almost all of the videos from the event are now available online, for free at www.streamingmedia.com/videos and most of the slides from the presentations can be downloaded from the Streaming Media East agenda page. We have about half a dozen videos to still post and some slide decks are still missing that I will upload as soon as the presenters send them to me.
The 2014 Streaming Media East conference will take place May 12-14, at the same venue, so mark your calendars now. If you have any follow-up questions from the event, please don't hesitate to contact me at anytime.