New Device Chart Lets You Compare Today's Streaming Boxes and Content Platforms
[Update 12/20: I am working on an update to the chart to add the Xbox One, PS4, TiVo Roamio, Chromecast and update all of the content platforms. I will have the updated chart out in the new year.]
There's more than a dozen streaming media boxes on the market today and trying to compare their technical specs and which content platforms they support can be a challenge. So I've put together an updated chart which compares the top 14 devices. This is an update to last year's chart and includes recently released boxes from Roku 3, Hisense, Asus, Nintendo and also many of the new content platforms like Redbox and others. You can download a high-res PDF copy of the chart by clicking on the image below and you can always find the latest version of the chart at www.StreamingMediaDevices.com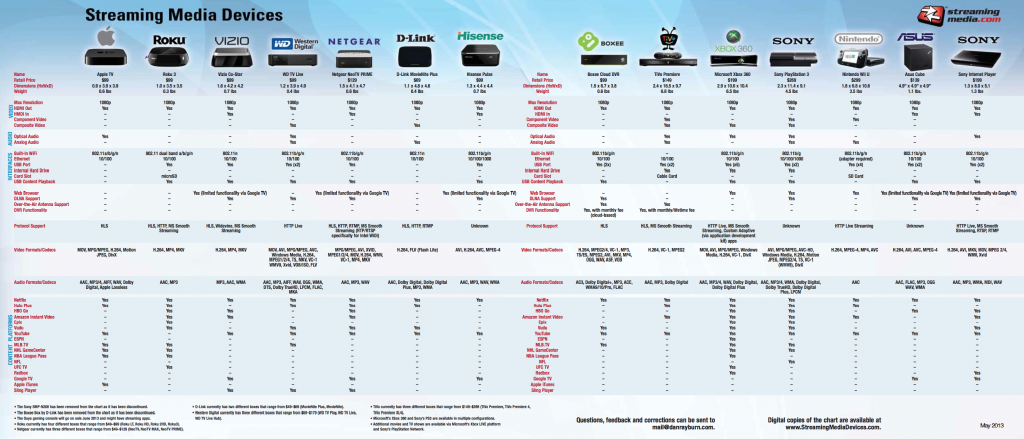 I will update the chart throughout the year when new devices come out and new content platforms are supported. I'd like to thank many of the device manufactures who verified the information on the chart and helped put it together including Roku, Sony, Boxee, Western Digital, Netgear, D-Link, TiVo and Microsoft. Thanks also to Dolby and Encoding.com who sponsored the chart and helped us distribute print copies at the Streaming Media East show this week.
If you have questions on which box you should choose, send me an email and I'll help you out. Chart corrections and suggestions can also be left in the comments section below.
Update 5/20: The Boxee Cloud DVR has a "limited amount of free storage", in addition to their paid plans.
Update 6/13: HBO Go is not supported on the PS3. The next version of the chart will correct that.
Update 6/19: HBO Go and ESPN are now supported on the Apple TV.