Damon Phillips, VP, WatchESPN & ESPN3 To Keynote Streaming Media East Conference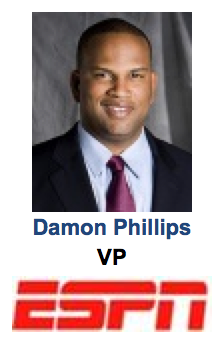 I'm very pleased to announced that Damon Phillips, Vice President of WatchESPN & ESPN3 will kickoff the Streaming Media East conference (#smeast), as our keynote speaker on Tuesday, May 21st. Damon will join more than 100 speakers from media, broadcast, MSO and enterprise companies discussing the latest business, content and technology subjects around online video. Register online and get admission to the keynotes and exhibition hall for free.
And it's not too late to get a full conference pass to the show and readers of my blog can register using my own personal discount code of DR13, which gets you a two-day ticket to the show for only $695. That's $200 off the regular ticket price and it gets you access to 35 sessions and how-to presentations, 100+ speakers and all the networking events.