Roku Announces New Roku 3 Player, New User Interface, Still Best Streamer In The Market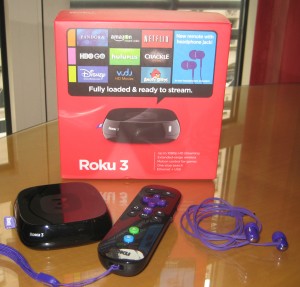 Popular streaming device maker Roku has announced a new $99 streaming box, named the Roku 3, based on a faster chip, better WiFi support, as well as a newly redesigned user interface, which will also roll out to some older Roku boxes. I had a chance to get some hands-on time with the Roku 3 last week and was impressed with this upgrade since channels load faster, video starts up with less buffering and WiFi has been improved, with dual-band support. Add in the new UI, the ability to listen to audio via some Roku branded purple headphones included in the box, plus the number of content channels available and the Roku is still the best streamer in the market. Roku expects to sell their 5 millionth box to date by then end of this month.
The new Roku 3 is a little smaller than the Roku 2 with but rounded corners and has built-in ethernet, HDMI, USB, MicroSD slotand support for dual-band Wi-Fi a/b/g/n and 1080p video. The Roku 3 also has a very cool new feature with a built-in headphone jack in the remote, which lets you plug in headphones for private listening. In addition, after a long wait, Roku has finally revamped their user interface (video of it here) and made using, searching and navigating all the content channels much faster and easier to use. For those that were hoping for an official YouTube channel, I'm afraid it's still not available. But read my other post entitled, "A9 Chip Inside The Roku 3 May Finally Allow For An Official YouTube Channel", to learn more about why I think a YouTube channel may be coming soon.
The Roku 3 is based on a new processor and sports a dual-core A9 chip, a big improvement over the legacy ARM11 chips in the older Roku 2. The Arm 11 chip has never been powerful nor a very efficient processor and the dual-core A9 chip is exactly the opposite and is up to 5x faster than the ARM11. One thing I noticed during my hands-on time with the new Roku 3 is that apps and video open and play much faster over the Roku 2, by a noticeable difference. Part of that may be to the amount of memory in the new Roku 3, which allows for the caching of content, but Roku won't comment on how exactly they setup the video to buffer, saying it's a secret.
In addition to the new chip, the Roku 3 can now take advantage of dual-band WiFI routers. This is a big improvement over the Roku 2 models as many users complained of WiFi connectivity issues with their Roku models. I had issues with the Roku 2 models where in some cases, the WiFi signal would be very weak when every other device sitting next to the Roku would be strong. It's always hard to pinpoint the exact problem when it comes to WiFi issues as many factors affect the signal strength and reach of one's WiFi signal in their home, but the new Roku 3 should eliminate most WiFi coverage issues for anyone with a dual-band router setup.
The Roku 3 ships with the same motion controlled remote as the Roku 2 XS except for the addition of the new headphone jack in the remote which lets you listen to your content with a pair of headphones. The Roku 3 ships with purple headphones, complete with different sized interchangeable rubber earpieces and audio is sent from the Roku 3 to the remote using WiFi, thanks to a WiFi chip inside the remote. This is really a very nice option that can be used by those who want to watch content without bothering others around them or for those who don't hear well and might have to use subtitles. This is one of the nicest features of the new Roku 3 and one that is extremely practical, considering many consumers have to contend with background noise while trying to watch their favorite shows or movies.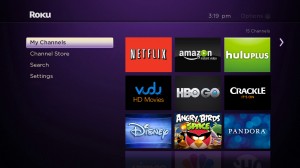 Fans of the most current Roku models will be happy to know that the new and improved user interface that comes with the Roku 3 will also roll out to many older Roku models as well, specifically the Roku LT, Roku HD (model 2500R), Roku 2 HD, Roku 2 XD, Roku 2 XS and the Roku Streaming Stick. Roku didn't give me an exact date of when the updates would be available but did say "sometime in April". The new user interface is nice, very clean, easy to navigate and retains the simple and straight-forward approach users have always loved about the Roku. Many times when a new UI is released, it can be sluggish and buggy but the new UI I got to use on the Roku 3 was very fast, much faster than the current UI on the Roku 2 models. I haven't had the chance to test the new UI to see how is works on older Roku boxes, but I expect it will perform well. In addition to the new navigation, Roku also has a new search function which lets you search amongst all content channels and returns results for both subscription and PPV services. It's a universal search option with predictable results that reminds me of the look and feel to the search function when using TiVo.
Roku isn't announcing any new format or codec support for content being played back via USB and those looking for a streamer that can act as a media hub to playback all kinds of various formats should look to other boxes in the market made for that purpose. Roku's not going after that market but rather those consumers who want a quick and easy way to stream content from the widest selection of content. If Roku can get an official YouTube channel on their Roku 3 boxes going forward, many will upgrade. Roku would then be the only $99 box in the market to have YouTube, Netflix, Hulu Plus, MLB.TV, NBA, NHL, EPIX, HBO Go, Amazon Instant Video, Vudu and UFC. The Xbox 360 has all of these channels, plus ESPN, but costs twice what the Roku does and is really targeting a different market and type of user.
Roku already had the best content available and with a new user interface, faster loading channels, increased WiFi performance and quicker video playback, the new Roku 3 is easily the best $99 streamer in the market. While Roku isn't currently offering any kind of upgrade option the company did tell me that from time to time, existing customers will receive different offers to upgrade from older Roku models. The Roku 3 comes with a 90-day warranty, is available and shipping from the Roku.com website today and will be available via Amazon.com and retail stores in April.
And if you want a shot at winning a free Roku 3, I'm giving one away to one lucky reader of my blog. You can enter the drawing here.