Western Digital Announces New $70 Streaming Player: WD TV Play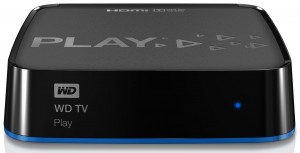 This morning Western Digital announced a new streaming player called the WD TV Play. The device is similar to the $99 WD TV Live, but is cheaper and retails for $70. One key thing that I see most members of the media missed in their posts is that in exchange for saving $30 you do sacrifice some functionality. Primarily support for MPEG, MPEG1, MPEG2, MPG formats and no support for DTS audio. Like the WD TV Live the Play device supports local content playback including:
Video: AVI (Xvid, AVC, MPEG4, VC-1), MKV (h.264, x.264, AVC, MPEG4, VC-1), TS/TP/M2T/M2TS (MPEG4, AVC, VC-1), MP4/MOV (MPEG4, AVC), WMV9, FLV (AVC)
Audio: MP3, WAV/PCM/LPCM, WMA, AAC, FLAC, MKA, AIF/AIFF, OGG, Dolby TrueHD.
The WD TV Play supports all the same video channels as the WD TV Live including YouTube, Hulu Plus, Netflix, Vudu, AOL HD and the SlingPlayer. The only new channel added to the WD TV Play is "Tweet," which is a custom-built Twitter app developed by Western Digital. For consumers looking to stream content with local playback, the WD TV Play fits the bill nicely and seems to be directly targeting Roku's mid-level box, the Roku 2 XD.
The WD TV Play still has to add a lot more content support like Amazon, HBO GO, MLB, NHL and NBA if it wants to be on par with the Roku 2 HD, but the WD TV Play does have support for YouTube and SlingPlayer, something Roku does not. And Roku's playback of local content is extremely limited while the WD TV Play with handle almost any format you throw at it. And if more support is needed, you can easily upgrade to the WD TV Live.
Picking and choosing which box is best in the market all comes down to what each consumer's specific content interests are and what they want to do with it. So blindly calling one box the best would be wrong. The WD TV Play is currently available for purchase, but only via Western Digital's website.
The WD TV Play joins new boxes recently released in the market by ASUS, Netgear and Hisense, giving consumers a ton of choices in price and functionality. Here's my updated list of streaming boxes currently in the market and there are more coming that have yet to be made public:
Apple TV
ASUS Qube with Google TV (coming March 2013)
Boxee TV
D-Link MovieNite Plus
Hisense Pulse with Google TV
Microsoft Xbox 360
Netgear NeoTV (3 models)
Netgear NeoTV PRIME with Google TV (coming Feb 2013)
Nintendo Wii U
RCA Streaming Media Player DSB772E
Roku (4 models + Roku Streaming Stick)
Sony PlayStation 3
Sony SMP-N200
Sony NSZ-GS7 Internet Player with Google TV
Vizio Co-Star with Google TV
Western Digital WD TV (3 models)
You can check out my comparison chart of streaming devices at www.streamingmediadevices.com. The chart is currently undergoing an update and I'll be posting the latest revision shortly.