Super Bowl Webcast Poor Quality, Player Broken, Bad Experience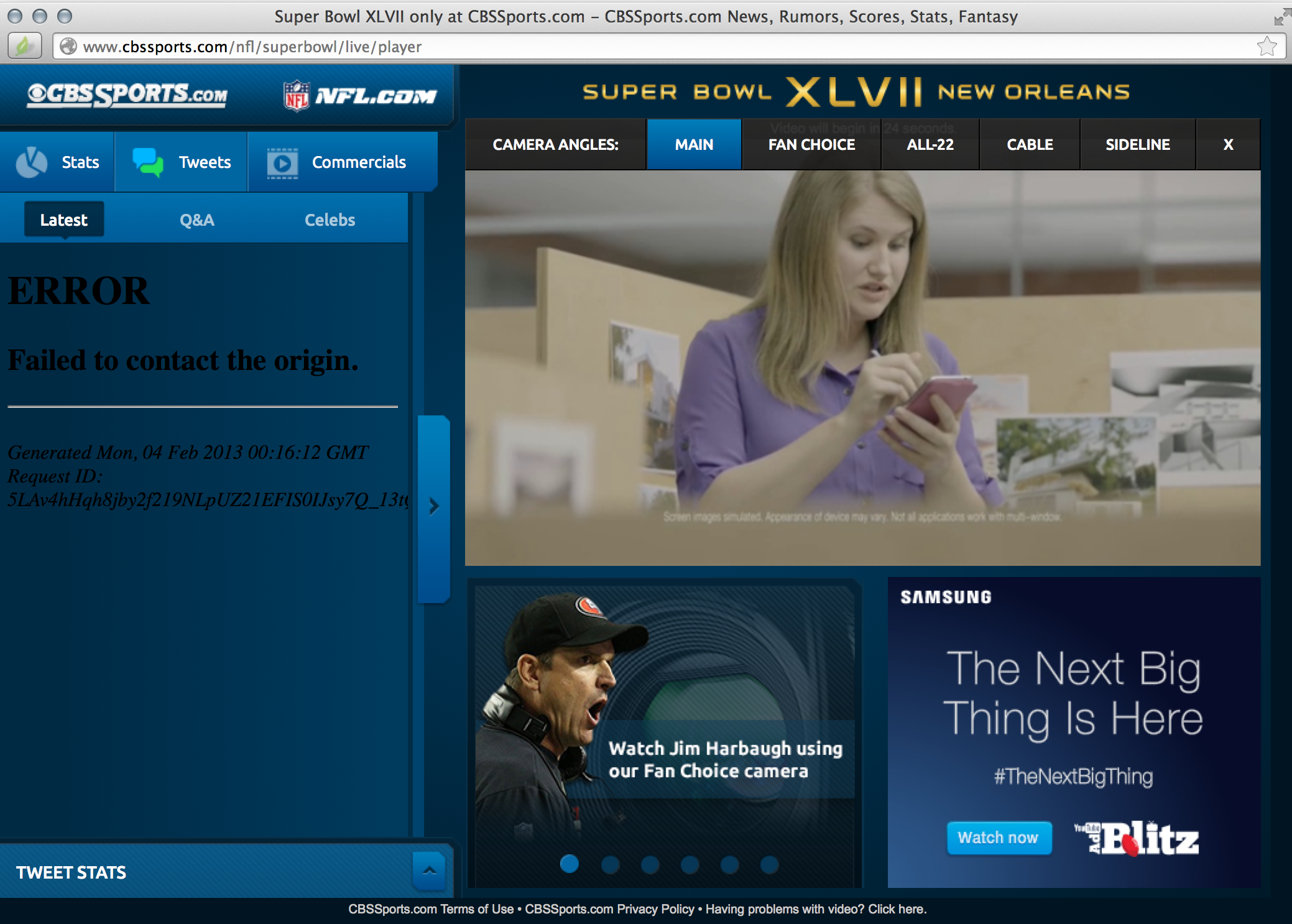 Last year, NBC Sports failed in their execution of the first Super Bowl webcast and this time around, CBSSports.com isn't doing any better. Tonight's webcast has really bad video quality, lots of pixelation and a stream that looks to be encoded at less than 1Mbps. The webcast player won't load the Twitter feed, which is giving me an error of "Failed to contact the origin" and the video has lots of buffering. When I join the webcast, I'm first given an ad, then the game comes on for a few seconds and then another ad gets delivered. Clearly the ad delivery function isn't work right either.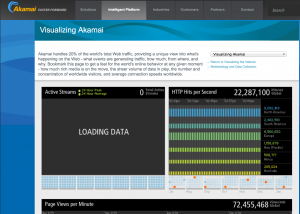 It's also interesting to note that Akamai's website that always shows how many live and on demand streams are running on their network at any given time is showing a total active stream count of zero. It's as if CBSSports.com asked Akamai to shut down that section of their "Visualizing Akamai" dashboard for the Super Bowl webcast so that no one will know the kind of traffic CBSSports.com is getting. It could just be a coincidence, but I doubt it as the Akamai page was working before the Super Bowl started.
One might suggest that the reason CBSSports.com is encoding the video at such a low bitrate is to reach viewers in areas where they don't have great connectivity, but as the webcast player support page states, the Super Bowl webcast is "limited to the United States" viewing only. The average broadband speed in the U.S. is at least 5Mbps, maybe even 7Mbps depending on which data you look at. So delivering what appears to be an 800Kbps stream with lots of pixelation makes for a bad experience, no matter what kind of Internet connection you have. Of course tomorrow, I'm sure we'll see a release from CBSSports.com calling the webcast a "success".
For all the people who talk of streaming media technology supposedly replacing broadcast TV distribution, this is just another example of many where one webcast can't even be delivered to a small audience with HD video, or a reliable user experience. And for those industry folks who want to try and argue that soon we'll all be streaming in 4K, 3D or using H.265 at 15Mbps – please come back to the real world.
From the viewing experience, one would think this is some kind of "new" technology being used, when in fact it's been around for 15 years now. Another Super Bowl, another poorly executed webcast.