ASUS and Netgear Announce New Streaming Boxes, $130 & $150 Price Points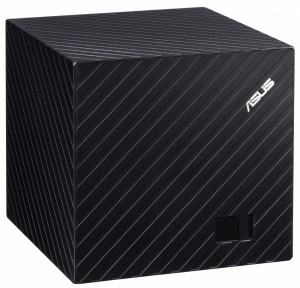 There are a lot of options in the market for consumers looking to spend $100 or less to get a dedicated streaming box including devices from Apple, Roku, Boxee, Western Digital, Netgear, Sony, Vizio and D-Link. But that's not stopping ASUS from jumping into the market with their announcement of a new device called the Qube, that will be more expensive than the others devices, retailing for $150 when it launches in March.
The box comes with the Google TV platform, support for Netflix and Amazon Instant Video at launch and includes 50GB of storage space via the ASUS cloud platform. It's has two USB ports, HDMI in and out, ethernet, IR out and 4GB of flash storage. The interface for the Qube display functions via a rotating on-screen cube shape, which from the looks of it, appears to be a really bad UI. ASUS wanted to be creative by make the interface a cube, just like the shape of the box, but it appears they picked from over function. I haven't gotten hands-on with the box just yet, so maybe the UI works better than I think, but from what I have seen in this video demo, I don't think users will think the interface is very practical.
In addition to ASUS's new device, Netgear has also announced a new box called the NeoTV PRIME. The box is similar to their NeoTV line including the standard, MAX and PRO, but the PRIME comes with the Google TV platform. It's also DLNA compatible, supports playback from external USB drives and has a two-sided remote control with built-in keyboard. While Netgear said the device is currently available for sale and retails for $130, Amazon shows the device being released on February 22nd.)
With ASUS and Netgear's new boxes and the recently announced box from Hisense, here's my updated list of streaming boxes:
Apple TV
ASUS Qube with Google TV (coming March 2013)
Boxee TV
D-Link MovieNite Plus
Hisense Pulse with Google TV
Microsoft Xbox 360
Netgear NeoTV (3 models)
Netgear NeoTV PRIME with Google TV (coming Feb 2013)
Nintendo Wii U
RCA Streaming Media Player DSB772E
Roku (4 models + Roku Streaming Stick)
Sony PlayStation 3
Sony SMP-N200
Sony NSZ-GS7 Internet Player with Google TV
Vizio Co-Star with Google TV
Western Digital WD TV Play (coming Feb 2013)
Western Digital WD TV Live Hub
You can check out my comparison chart of streaming devices at www.streamingmediadevices.com. The chart is currently undergoing an update and I'll be posting the latest revision soon.