Here's The Four Hottest Upcoming Streaming Devices You Should Know About
There are a lot of streaming media devices out in the market right now from tablets and game consoles to stand-alone streaming boxes and connected TVs. While I have, use and test consumer streaming services across more than 50 devices, there are a few new devices that have just come out or will be coming out shortly that I am excited about. Here what those devices are and why I can't wait to get hands-on with them.
Vizio Co-Star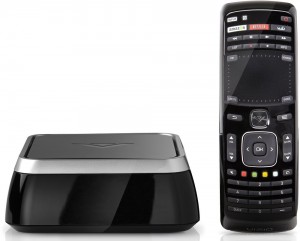 Vizio's Co-Star streaming box could challenge Roku, Apple TV and the WD TV Live as the most full-featured $99 streaming box in the market, which just started shipping in the past 24 hours to those who pre-ordered last month. The box has built-in ethernet, WiFi, two HDMI ports (in and out), DLNA support, one audio IR port and has USB to support the playback of local content. The box supports 1080p video quality and also supports 3D streaming and will have an app for OnLive's gaming service. On the content side, the box comes bundled with the Google TV platform which Vizio has completely re-skinned, thereby creating a new user interface for the Google TV platform. In addition the box supports content offerings from Netflix, YouTube, Amazon Instant Video, HBO GO, Wall Street Journal, Pandora, iHeartRadio, Slacker Radio, M-GO video-on-demand and other content services not yet announced.
Included with the box is a bluetooth touchpad universal remote with QWERTY keyboard. Vizio says the idea with the all in one remote is to allow customers to connect cable or satellite set-top boxes through the player's built-in HDMI ports for a smoother experience for the overlay of live TV. Over the years, a lot of companies like D-Link, Sony and Netgear have come out with their own $99 boxes in an effort to compete with Roku and Apple TV and so far, don't have a lot to show for it. But Vizio's Co-Star box is very different since none of the other $99 boxes come bundled with the Goolge TV platform, have HDMI pass-through and most don't have DLNA support. It's one of the reasons that Vizio's box is on the top of my list of devices I'm really excited to see in the market.
Simple.TV


Simple.TV is a HD Tuner and DVR video server in one simple package. Announced at CES in February, and slated to ship by the end of this year, Simple.TV allows consumers to connect an external USB hard drive for storage, plug-in a TV signal from their basic cable or over-the-air antenna and connect the box to their home network. They offer free apps for the iPad and Roku with more on the way and plan to offer an enhanced service for $4.99 a month. The premium service will give consumers access to a rich interactive program guide, unlimited remote streaming for up to five users and an easier way to record TV shows automatically. The device is expected to ship by the end of this year and retail for $149.
To date, a lot of boxes on the market allow you to stream content or place-shift it to another device, but none of them give you any DVR style functionality. Some like Boxee do support over-the-air antennas, but doesn't have a program guide tied into any kind of DVR style services. It's too early to know how successful the Simple.TV device will be, but from my conversations with the founders of the company, they are hoping to sell a few million devices over the first few years, which is pretty realistic.
Roku Streaming Stick
The Roku Streaming Stick will be the easiest way to take a dumb TV and turn it into a smart TV. The Streaming Stick plugs directly into the MHL port on newer TVs and feeds video to the HDTV, accepts remote control inputs and power, and brings its own WiFi support for Internet access. Roku hasn't yet disclosed the cost for the stick or when it will ship, but they have indicated that they'll release more details in a few weeks. Roku's already got a nice box on the market that's only $49, but this streaming stick allows you to add Internet functionality and content to any TV with no wires or boxes, something a lot of consumers would appreciate.
The company has already announced a list of manufacturers that will deliver Roku Ready hardware and I expect we'll see that list grow. To date, the way to get a smart TV was to buy a new one or get an expensive box giving you Internet access, but not real user-interface. If Roku can create a very easy way to navigate the big screen, along with an intelligent easy and to use user-interface, the Roku Streaming Stick should be a big hit, especially if they sell it for as cheap as I think they will. (think $30)
Belkin @TV Plus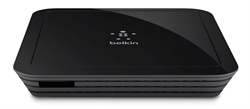 [Updated: I'm hearing Belkin has confirmed that this device will only output 480p video. Based on the lack of HD support, this device is nothing to be excited about] Belkin's @TV Plus is looking to go head-to-head with the Slingbox PRO-HD, which allows you to stream your live cable TV service to multiple devices. I love my Slingbox Pro and it is by far the best device in the market today for a true TV everywhere experience. I have access to my full channel lineup and my DVR from my computer, tablet and phone. But the one shortcoming of the device is that is has no built-in WiFi, so you need to have it close to your router, drop an ethernet jack into your wall, or use some sort of adaptor to push your Internet signal via your electrical outlets. Belkin's @TV Plus has built-in WiFi, so that should make setup much easier and allow you to really extend where you can place the units, which is something I have had problems doing with the Slingbox PRO.
Another advantage of Belkin's @TV Plus device is that they don't charge for their tablet app, something Sling makes you pay for. Belkin does charge $12.99 for the mobile app, but that's much cheaper than Sling's price of $29.99 for their mobile app. Belkin's device is also cheaper than the Slingbox Pro-HD, currently selling on Amazon for $179.99, compared to the Slingbox PRO-HD which is priced at $249.99. The lower price for the unit and the apps is welcomed, but only if they work as well as Sling's apps do and can match the level of video quality produced from the Slingbox PRO-HD. Belkin's @TV Plus started shipping this month and while I haven't yet had the chance to test it out and see how good it is, I hope to have a review up shortly.
What streaming media devices are you interested in seeing this year?
Want to see how the current streaming media devices in the market stack up? Check out our device comparison sheet at www.StreamingMediaDevices.com