Compare The Latest Streaming Devices and Content Platforms, All In One Chart
UPDATE: A new chart has been released May 2013. Please visit www.StreamingMediaDevices.com for the latest copy.
[Note Jan 2013: I am working to update the chart to add the Boxee TV, Wii U, ASUS Qube, Hisense Pulse and Netgear NeoTV PRIME. If you have any questions on devices, you can email me at anytime] And check out my post here from Feb. 2013 with a list of all the latest devices in the market, with dates they get released.
At the broadband device pavilion on the exhibit floor of the Streaming Media East show, we released our latest chart that compares all of the dedicated streaming media boxes in the market and lists which content platforms are available for each box. You can download the full PDF by clicking on the image below and you can always find the latest version of the chart at www.StreamingMediaDevices.com
CLICK ON THE CHART BELOW TO DOWNLOAD A HIGH-RES COPY.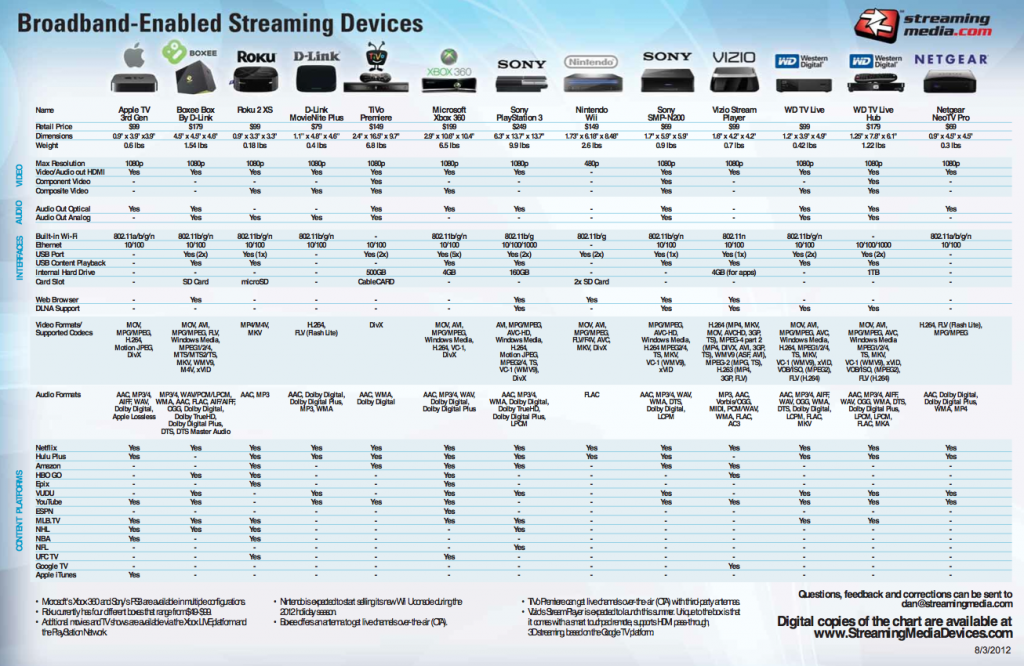 I'll be updating this chart a few times throughout the year and you can send any additions or errors you spot to me directly. A big thank you to the following companies who helped me with the chart: Boxee, Roku, D-Link, TiVo, Dolby, Microsoft, Sony, Vizio and Western Digital.
Updated 6/3: Added Amazon support to Xbox 360. Removed .MOV support on the Roku.
Updated 6/10: Added the Netgear NeoTV Pro streaming box to the list.
Updated 6/15: Updated the D-Link MovieNite to the D-Link MovieNite Plus.
Updated 8/5: Added Hulu Plus support to the Apple TV.
Updated 9/4: Removed the reference to the Vizio Co-Star "shipping soon" since the product is now available.
Updated 9/21: Added Vudu support to the Roku. Upgraded Netgear's NeoTV Pro to the Netgear NeoTV MAX. Added the date the Wii U will go on sale.