Apple Updates $99 Apple TV, But With No Subscription Service, It's No Game Changer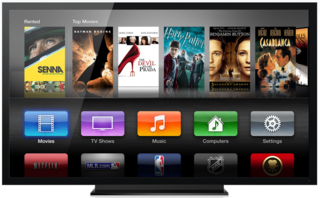 At Apple's iPad event, the company announced an updated version of their Apple TV streaming box, which now supports 1080p video and has a new user interface (pictured at left). Pricing on the Apple TV remains at $99 and can be ordered today, with devices available in stores next week. Also related to the Apple TV is the announcement that iCloud now supports streaming for movies. Users will now be able to re-download movies they have purchased on any iDevice and stream it via the Apple TV.
While it's nice to see Apple offer 1080p support on their device, to date, they have sold less than 5M second generation Apple TV units in the past 18 months. Without some kind of content subscription service, this updated Apple TV isn't going to disrupt the market at all. It's a great box for doing AirPlay mirroring but it still lacks the ability to run apps and simply updating it to support 1080p is pretty weak. Nearly all of Apple's competitors in the $99 streaming box space have been supporting 1080p video for years and have support for side-loaded content via USB. Not to mention, the Apple TV does not support Hulu Plus, Amazon, have a web browser or an open SDK for developers. It's really only a device targeting iPad/iPhone users for AirPlay functionality. If Apple brought more third-party content to the box that would help, but they didn't mention any new content partners during their presentation, so don't get your hopes up. To me, Vizio's new $99 streaming box will kick Apple TV's butt, in terms of functionality and value.
Apple is so short-sighted on their living room strategy because if they Licensed iTunes For Non-Apple Devices, They Could Own The Living Room. But we know that's not going to happen.
Updated 1:55pm: I have confirmed that users of the older 720p Apple TV will not able able to get 1080p support via a software update. You want 1080p, you'll have to spend another $99 and buy the new Apple TV. Typical Apple. Add a new feature that has been out for years, and charge people more for it in a "updated" version. There is no excuse for Apple not having 1080p support built in to the second generation model to begin with. Users of the 720p Apple TV model will be able to get the new user interface.
Updated 3:00pm: Netflix has just announced that consumers can now sign up directly on their $99 Apple TV and pay for a Netflix subscription via their iTunes account.