Akamai Acquires Blaze, Adds Frontend Optimization Services: Here's What That Means
This morning Akamai announced they have acquired Blaze Software, a cloud based provider of front-end optimization (FEO) services. Terms of the deal weren't disclosed, but the numbers will come out, maybe even by Akamai during their earnings call today. Either way, I'll update the post once I hear what value was placed on the deal. FEO is going to be a big push from all the CDNs this year and Akamai needed to acquire someone to add a FEO product to their portfolio. This acquisition is probably also to combat Level 3 which has been working closely with FEO provider Streangeloop and has been having success in taking some big deals away from Akamai as of late.
FEO might sound similar to another subject I have written about lately, dynamic site acceleration (DSA), but it's very different. DSA's focus is to bring network resources closer to the user by pre-fetching or caching files. FEO makes the content itself faster. DSA makes page resources download faster. FEO reduces the number of page resources required to download a given page and makes the browser process the page faster. For example, analysis shows that popular sites like CNN, who already use a CDN, can double current performance by implementing FEO.
There are a lot of small FEO vendors in the space and many of them have now been acquired or teamed up with larger CDNs. While some might think that Akamai's recent purchase of Cotendo gave them a FEO product, that's not something Cotendo was doing. Blaze is now owned by Akamai, Limelight acquired AcceloWeb, Strangeloop is working with Level 3 and Riverbed acquired you also have stand-alone FEO services from Aptimize. Here's a slide that helps to break out where all the vendors fit in, but these lines are quickly blurring as many of the larger companies are taking out the smaller ones and adding this kind of functionality to their product suite.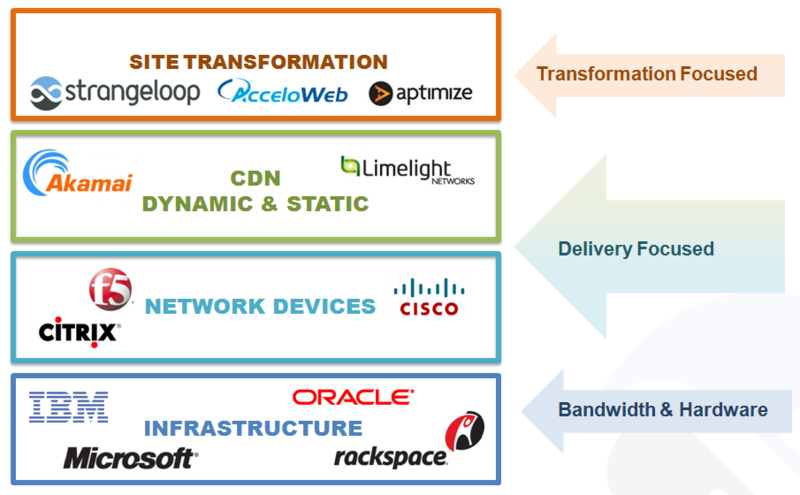 For content owners, it used to be that the answer to most website performance problems was either to add more hardware, use a CDN, or re-engineer their backend application code. But for a number of reasons, investing in backend optimization is now providing diminishing returns. Google's research shows that for many popular sites it's the front-end that accounts for over 90% of a users wait time. Content delivery networks help to address part of this problem by reducing network latency, but even larger performance gains can be achieved through front-end optimization techniques that streamline the Web page HTML code and resources.
If you want to learn more about how front-end optimization works and what role it plays within a CDN, see my blog post from last year entitled: "Why Web Applications And Mobile Browsing Are Making The Frontend A Major Performance Bottleneck".
We will be talking a lot about FEO and seeing demos of these services at the Content Delivery Summit, May 14th in NYC.