Vizio To Launch $99 Streaming Box, Trumps Roku and Apple TV In Features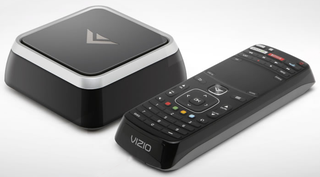 [Updated August 21, 20102: Check out my review of the new Vizio player at: "Vizio Co-Star Review: Hands-On With Vizio's New $99 Streaming Box"]
At the CES show, Vizio announced a bunch of new TVs and computers, but the most interesting product they briefly mentioned was a new box called the Vizio VAP430 Stream Player. Vizio's press release didn't include a lot of details on the device, but Vizio was kind enough to answer a lot of questions for me in a phone interview late Tuesday.
The box, which will launch in the first half of this year in the U.S. only, will be priced at $99 and be sold exclusively via Vizio's website. The box has built in ethernet, WiFi, two HDMI ports (in and out), DLNA support, one audio IR port and has USB to support the playback of local content. Vizio didn't have a list of all the formats that will be supported for local content playback but did say it will support at least MPEG4, WMV and MP3 amongst others. The box supports 1080p streaming and is so robust, Vizio says it also supports 3D streaming and will have an app for OnLive's gaming service.
On the content side, the box comes bundled with the Google TV platform which Vizio says they have completely re-skinned, thereby creating a new user interface for the Google TV platform. In addition the box supports content offerings from Netflix, Hulu Plus, YouTube, Amazon Instant Video, HBO GO, Wall Street Journal, Pandora, iHeartRadio, Slacker Radio, M-GO video-on-demand and other content services not yet announced.
Included with the box is a bluetooth touchpad universal remote with QWERTY keyboard. Vizio says the idea with the all in one remote is to allow customers to connect cable or satellite set-top boxes through the player's built-in HDMI ports for a smoother experience for the overlay of live TV. Vizio says the user experience switching between live TV, Google TV and apps is similar to the transition that Apple has in OS X with spotlight. If that's the case, it means the user experience and interface is going to be very fast and really polished. While the box is currently called the "Vizio Stream Player", Vizio said they plan to brand the box with a better name at the time of release.
Over the years, a lot of companies have tried to compete in the $99 streaming box market, with Roku being the leader of the pack and selling 1.5M boxes last year. In addition Apple (Apple TV), Western Digital (WD TV Live), Sony (SMP-N200) and Netgear (NeoTV) also have offerings in the market, but none of them come bundled with the Goolge TV platform, have HDMI in and most don't have DLNA support. Vizio has a great brand name, lots of penetration in the living room with their TV sets and if the device performs as well as Vizio claims, the company should sell a lot of these boxes.