Comcast Exec Matthew Strauss To Demo Latest Version Of Xfinity Platform At Streaming Media West Show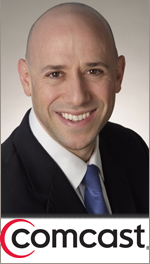 I'm pleased to announce that Matthew Strauss, SVP and GM of Comcast Interactive Media will be the keynote speaker on day two of the Streaming Media West show in LA, taking place November 8-9th. Matt will be speaking about Comcast's approach to online video and doing a live demo showcasing Comcast's latest version of their Xfinity platform as well as discussing the challenges and opportunities in the ecosystem around online video content. Learn how Comcast is looking to give consumers access to content anytime, anywhere on any device and the significant leaps the company has made in the past twelve months towards this mission.
Access to all keynotes during the show are free with an exhibits pass, so go online and register today. You can also get $200 off the conference ticket price using the promo code DRF1 and if you register for a gold pass, we'll even throw in a free Roku 2 XD streaming box while supplies last.