Limelight Networks And Level 3 In Discussions To Merge Their CDN Offerings
Two weeks ago, I wrote about the discussions I was hearing with regards to Limelight Networks being in talks to get acquired. A week after my post, Limelight Networks reported earnings and missed guidance by $2M, sending their stock to an all-time-low. As a result of the drop in their stock price, it's going to be hard for Limelight to get the kind of buy-out they were hoping for before their stock price took a hit, but they that does not change the fact they are still in the market looking for a buyer.
While I've heard that both AT&T and Microsoft have passed at acquiring Limelight, the bigger news I have confirmed is that Level 3 and Limelight have been in discussions for a few weeks now about joining forces and combining their CDN assets as a joint venture. I also hear that Limelight wants to sell their EyeWonder business and exit the interactive advertising portion of the market, which would be a smart move. I don't know what Limelight will get for the business, but they paid $110M for it last year.
I don't have details on how a deal between Level 3 and Limelight would be structured, if it happens, but it sounds like there are two ways this can go. Limelight could acquire Level 3's CDN business and then own and operate the CDN portion of the network with a guarantee from Level 3 to use the newly combined CDN. In a deal like this, one would expect Level 3 would get a couple of board seats on Limelight's board and have a great deal of say in the business. Combined, Level 3 and Limelight will have over $200M in CDN based revenue this year and taking Level 3's network and Vyvx business and Limelight's content management and web acceleration platforms, both companies would have all they need to double-down on the CDN space. The other option is that Level 3 could just buy Limelight outright. Considering Limelight has no debt and such a low share price, it would be a cheap buy for Level 3 and a deal that could close quickly.
One could argue that the CDN space is too commoditized to ever make a real business of it, let alone a profitable one with the way pricing declines each year, but if you own the network and have the ability to scale at a lower cost, profitability can be reached. Plus, even though CDNs have been offering delivery services for fifteen years, the real surge in demand for video delivery is in the next few years, when we actually have a real penetration and usage of tablets, broadband-enabled TVs and Blu-ray players and more subscription based content services. Traffic volumes are going to skyrocket in 2012-2013 and Level 3 has been betting big on the future of IP based video delivery.
Based on the recent data from my Frost & Sullivan report on the CDN market, we expect the video CDN market alone to have a revenue CAGR of 28% between 2012-2015 with the video CDN market reaching over $1B in 2013. With Limelight's current CDN business expected to grow between 10-12% this year, that's a long way away from the 28% number. But a combined Level 3/Limelight solution that integrates Limelight's platforms with Level 3's network and Vyvx assets, there is no reason to believe the new venture, however it is structured, can't grow the business much more than 10-12% a year.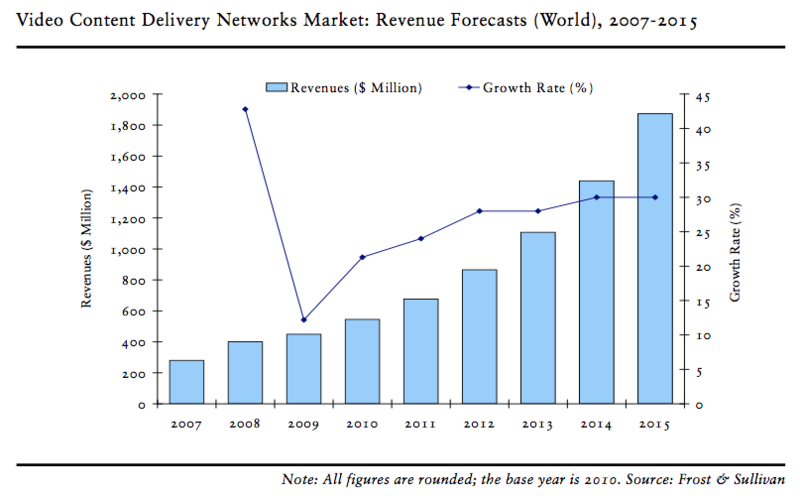 Right now, Level 3 offers the lowest price in the market, in most cases under-cutting Akamai by 25-30% on CDN deals as Level 3 owns the network and has a lower cost of delivering bits. One of Limelight's biggest costs is the network and if they can merge with Level 3 in some fashion, the cost of doing business will go down a lot for both companies, simply based on the scale and volume of bits being delivered.
While I've heard some suggest that Goldman Sachs, who owns almost 35% of Limelight, wants to dump their shares and get out of the CDN business as quickly as possible, I don't think that's accurate. Goldman could have sold shares back in February, but didn't, when Limelight raised another $71M and offered more shares to the market priced at $7.10 per share. I've also heard some say that Akamai should acquire Limelight and just get rid of their closest competitor. While that sounds good on paper, the problem is that Level 3 is the one creating the pricing pressure, not Limelight. So acquiring Limelight would not solve the price compression problem for Akamai. Also, if Akamai acquired Limelight they would most certainly shut down Limelight's network and move customers over to the Akamai platform. Akamai doesn't value Limelight's technology so any offer by Akamai, if they made one, would put no value in Limelight's platform, only in their customers and revenue. As a result, the price Akamai would offer to acquire Limelight would be too low.
If Level 3 acquires Limelight, it's a pretty straight-forward deal. But if Level 3 wanted to spin off their CDN business and have Limelight operate it, in order for Limelight to actually acquire Level 3's CDN business, it would be logical to expect them to have to raise more money as the $116 million in cash and short-term marketable securities that Limelight has right now would not be enough to acquire the business and still have operating capital. Selling off the EyeWonder platform might be enough, but I don't know what Limelight would get for it or how much it would take to acquire Level 3's CDN business. Clearly, Limelight knew they would miss earnings weeks before they announced and have been looking at multiple options for their business, as any smart company does. But being I'm not a banker and don't know the inner workings of how complex deals can get done, between cash and stock, someone with a background in finance would be better suited to figure it out. But maybe that's why I was also hearing rumors of Limelight raising money at the same time as acquisition talks.
With the patent lawsuit still on-going between Akamai and Limelight, one interesting thing to watch would be what happens if Level 3 and Limelight merge. When Level 3 entered the CDN space by acquiring the CDN assets of SAVVIS in December of 2006, Level 3 said that for any CDN to be successful over the long term, they'd have to have the intellectual property necessary to protect their investment in the CDN market. Back in 2008 I reported that Level 3 was quietly buying up CDN related patents, including at least 20 from IBM.
In 2008 Level 3 had 50 patents that were pending pertaining to content delivery and already owned over 80 patents specific to content delivery and streaming media technology. Today, those numbers are probably even higher. So I don't think Level 3 is worried about any patent suit from Akamai and if Level 3 merges with Limelight, one has to wonder how that may affect patent suits amongst Akamai, Limelight and other CDNs moving forward.
If a deal between Limelight and Level 3 gets done, it's going to have a lot of impact on the content delivery market overall. Such a combined offering would also give telcos and carriers a run for their money and might also convince a few of them not to spend money to try and build out their own CDN. While it's too early to know all the ramifications of such a deal, it would drastically change the CDN landscape. None of these deals I am hearing about are final and anything can still happen, but I don't think it will be too long before we have confirmation in the market on what the end result for Limelight Networks will be. The natural fit for Limelight is to be acquired or team up with a carrier, and there is no carrier who understands the CDN market better than Level.
Both Limelight and Level 3 declined to comment for the post saying, "we don't comment on these kinds of rumors".

Note: Sometimes, when I write articles about potential acquisitions in the market, I get a lot of emails from individual investors who want to suggest that I have an ulterior motive. If a company does or does not get acquired, I don't make money or lose money. I have never bought, sold or traded a single share of stock in any public company ever. If the share price of a company I am writing about goes up or down, I don't benefit in any way. Also, I won't respond to any requests asking me who my sources are.