Webinar: HTML5 Facts & Fiction, The Truth About Delivering Online Video to HTML5 Devices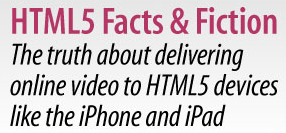 Today at 2pm ET I'll be moderating another StreamingMedia.com webinar, this time on the topic of how to deliver video to devices like the iPhone and the iPad. Whether you're just getting started to think about HTML5 or already incorporating it into your video strategy, this webinar is an opportunity to learn about best practices in HTML5 video delivery.
Join myself and Jeff Whatcott, SVP Global Marketing from Brightcove for a discussion on what you need to think about when incorporating HTML5 into your video strategy. You'll see how some companies are already leveraging HTML5 and learn the best practices for creating a holistic video experience. We already have more than 1,900 people registered for the event and Jeff's HTML5 presentation last month at the Streaming Media West show was one of the most popular. This is not a sales pitch for Brightcove but rather a very informative presentation on HTML5 and video.
The webinar is free so register here and bring your questions for the live Q&A portion of the event.