Webinar: Live Streaming for the Campus and the Enterprise (Thursday, 2pm ET)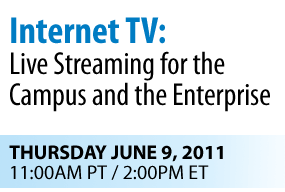 Tomorrow at 2pm I'll be moderating another StreamingMedia.com webinar, this time with RealNetworks and ViewCast on the topic of "Internet TV: Live Streaming for the Campus and the Enterprise". Learn how to set up a live streaming infrastructure to get your education, training and video communications to every employee and student – and to do it quickly and effectively. RealNetworks will discuss several case studies that demonstrate just how simple it can be to implement a professional-grade solution. Learn how to:
Select which system components are necessary to stream to any type of playback device, including PC, Mac, iPhone/iPad, Android phone/tablet, and BlackBerry
Set up a YouTube-like service for your enterprise and campus for on-demand delivery of your archived video content
Use the best all-in-one solution to do your live Internet TV broadcasting
Register here and bring your questions for the presenters for the live Q&A portion of the event.