The Ultimate Over-The-Top Video Experience: 3 Dozen Devices/Platforms, All In One Room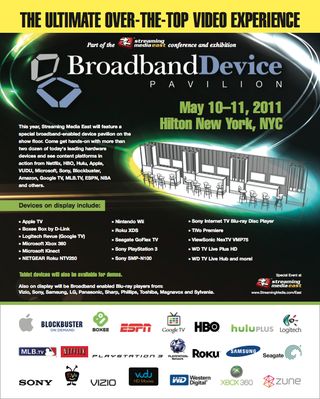 I am really excited to announce something really special for the industry we are calling the Broadband Device Pavilion; a new hands-on demo area at the Streaming Media East show, providing the ultimate over-the-top video experience. The Broadband Device Pavilion is a dedicated area on the exhibit floor that will give attendees access to more than 3 dozen of today's leading hardware devices and content platforms.
This demo area is free to attend and you'll be able to test out a wide range of streaming boxes, tablets, Internet enabled Blu-ray players and more than a dozen content platforms including:
Devices

: Apple TV, Roku XDS, Microsoft Xbox 360, Boxee, Logitech Revue, Seagate GoFlexTV, Sony PS3, Nintendo Wii, Sony SMP-N100, TiVo Premiere, ViewSonic NexTV, WD TV Live and Live Hub, OnLive and more.
Content Platforms

: iTunes, Netflix, Blockbuster, VUDU, MLB.TV, HBO GO, Hulu Plus, Google TV, Zune Video, Amazon, ESPN, EPIXHD and others.
Connected Blu-ray players

: from Vizio, Sony, Samsung, LG, Panasonic, Sharp, Phillips, Toshiba, Magnavox and Sylvania.
Tablets

: Apple iPad 2, Motorola XOOM, BlackBerry PlayBook, Samsung Galaxy Tab, Dell Streak and others.
And best of all, we're giving a lot of this gear away. Thanks to many of these vendors, we're going to be raffling off devices from Roku, Boxee, Western Digital, Logitech and others as well as subscriptions and credits to Netflix, MLB.TV, VUDU, Amazon Prime and more!
This is your chance to compare these devices and platforms in action, side-by-side, and check out what each platform offers in the way of content and video quality. All you need to do is register online for a FREE exhibits pass and you'll have complete access to the Broadband Device Pavilion.