Barry Tishgart, VP, Comcast Cable To Keynote Content Delivery Summit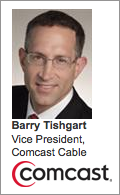 We're only three weeks away from the Content Delivery Summit, taking place May 9th in conjunction with the Streaming Media East show, and I'm pleased to announce that Barry Tishgart, VP of Comcast Cable will be the second keynote speaker at the event. As everyone knows, Comcast plays a major role in video distribution and Barry's presentation will take a look at the market from varying perspectives – as an ISP, content provider and CDN operator.
The economics of moving video over the Internet are complex and Barry will discuss the pertinent issues as the volume of video traffic increases and its impact on Comcast's core and access network. Barry will also discuss how innovations in online video have positive or negative effects on the overall economics of video.
In addition to keynotes by Comcast and Cisco, we have a great lineup of speakers already confirmed for the CDN Summit including executives from:

Additional speakers are being placed and you can check out the full conference agenda here. We'll have round table sessions, demo presentations on transparent caching and application acceleration, and presentations from end-user customers and content owners. I'll also be personally doing one-on-one networking between attendees and speakers and there are multiple networking receptions and dinners taking place after the summit.
Readers of my blog can take advantage of special pricing by registering using the promo code of DAN to attend the CDN Summit for only $395. Taking a look at the pre-register attendee list we have carriers, telcos, ISPs, MSOs, content owners and vendors coming from all over the world. This is the event to be at if you are in the content delivery business.