Polycom Acquires Accordent Technologies For $50M, Company Gets Buyout Of 5x Revenue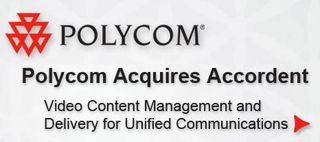 Last week I listed Accordent Technologies as one of the hot companies to watch in this space and today, Polycom announced it would acquire Accordent Technologies for approximately $50M in cash. It's a nice payout for Accordent which had $9M in revenue for 2010 and over more than a decade of operation had only raised $4M in funding. For Polycom to pay 5x revenue in today's market is a clear sign of just how strategic Accordent's technology will be to the company and also an indication of how well Accordent was doing in the industry. Ploycom's CEO Andy Miller wrote a letter to customers letting them know why the Accordent deal is so strategic to the company which you can read here.
All of Accordent's employees will stay on with Ploycom and Accordent's technology will fall under a new product and services group at Polycom called "video content and management delivery" which is under the unified communications and strategy umbrella at Polycom.
The unified communication space in general is getting ready to be dominated by the big players like Cisco and Polycom and I expert we'll see more acquisitions of this size soon. Like any service that has been around long enough, it's usually taken over by larger companies with more resources and a global reach. Cisco got into it this segment of the market when they acquired WebEx, Polycom has now entered with their purchase of Accordent and it's only a matter of time before more deals like this take place.
Today's deal clearly has companies like Sonic Foundry, Qumu, MediaPlatform and others hoping they can get this kind of buyout and evaluation in the market down the road.