New Data Released On The Performance Of Akamai's HTTP-Based Adaptive Streaming Technology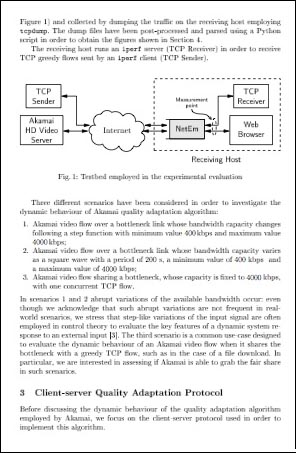 Two professors from the Department of Electrical and Electronic Engineering at the Technical University of Bari, Italy have released a white paper detailing their testing of Akamai's HTTP-based adaptive video streaming technology. The paper includes a lot of charts and graphs on their testing methodology as well as the results. They analyzed the client-server protocol employed in order to actuate the quality adaptation algorithm and they evaluated the dynamics of the quality adaptation algorithm in three different scenarios. Some of the highlights of their findings are:
video is encoded at five different bit rates and each level is stored at the server
the video client computes the available bandwidth and sends a feedback signal to the server that selects the video at the bitrate that matches the avail- able bandwidth
the video bitrate matches the available bandwidth in roughly 150 seconds
a feedback control law is employed to ensure that the player buffer length tracks a desired buffer length
when an abrupt variation of the available bandwidth occurs, the suitable video level is selected after roughly 14 seconds and the video reproduction is affected by short interruptions.
The same authors have also released their findings in another paper on the subject of Feedback Control for Adaptive Live Video Streaming. I am not a networking expert or engineer and don't know the technologies down to this level. So while I am not endorsing the findings of either of the papers I'm sure others who know more about this than I do will have some comments to share.