(Updated) Vizio To Launch Android Tablet, Mobile Phone, Video Download Service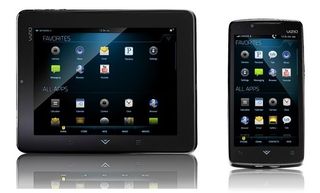 (Updated: with photos, link to press release and hands-on previews from Engadget, phone, tablet.) With CES starting this week, there have been lots of rumors leading up to the show including reports that Vizio may get into the tablet business. And thanks to a WSJ article from Sunday night, it turns out that the rumors are in fact true. Later this summer, Vizio plans to introduce an 8" tablet as well as a mobile phone with a 4" screen. Both devices will run Android and while pricing had yet to be disclosed, the WSJ interviewed Vizio's CTO as saying their aim is to, "provide the best that's out there to your typical Wal-Mart shopper," something that Vizio has been very successful at with their line of TVs.
The company also plans to launch a new video download service which will run on all of their devices and will allow users to starting watching a movie on one Vizio device finishing watching it on another. Vizio's cell phone, dubbed the Via Phone, will have a 4" screen, a front-facing camera and a rear-facing five megapixel camera. Vizio's tablet, named Via Tablet, will have an 8" screen, WiFi connectivity (but no cellular service), three speakers and a front-facing camera. Vizio's mobile carrier partner has yet to be announced but I've heard from various folks who think it will be Verizon.
If there is one thing Vizio has done very well in the TV business, it's forcing pricing down in the industry and making up for it by the sheer number of units they have sold. If Vizio take this same approach with tablets, and I expect they will, Vizio could very well disrupt the tablet space, especially with the strong ties they have with retail chains. Vizio is a well known brand with a big install base and has the ability to get in front of a lot of customers very quickly.
I don't know exactly how many tablets will be released this year, but I've seen some folks who estimate it to be as high as 100. Even if it's half that, I think it's a safe bet that we'll be looking back on 2011 as the year of the tablet and I would not be surprised if Vizio is one of the leaders of the pack. They won't be displacing Apple anytime soon, but they could very well compete for a large portion of the market, which iSuppli says will be 61M units sold this year.
I'm a big fan of Vizio's TVs, have three units myself, and have helped friends and relatives purchase many others. If Vizio approaches the tablet space the same way they have dominated the TV market, I suspect Vizio will be successful in expanding their business. I'll have a review up of Vizio's new tablet later in the year.